The Left loves to rub elbows with tyrants, and pimp their main stars.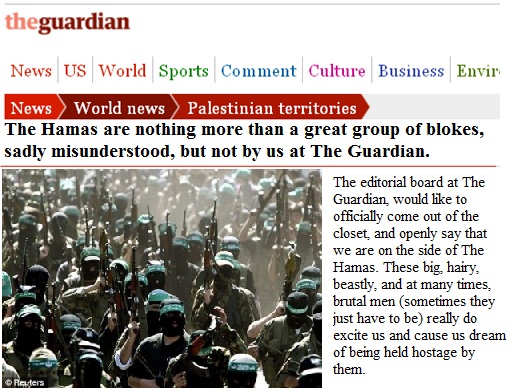 Guardian publishes praise of Hamas from Palestine Telegraph writer
Lucy Lips, June 8th 2012, 9:14 pm
The Guardian has published a piece by Nader Elkhuzundar this evening. Elkhuzundar writes:
Hamas has always been the spike in Israel's throat. The latter took advantage of this and tightened up the siege on the Gaza Strip, in the name of "self defence" and anti-terrorism acts. The Gazan border is almost always closed. […]
Hamas has slowly stripped the big families in the Gaza Strip of their weapons, which has made Gaza safer by almost eliminating the murders and by making accessible streets and neighbourhoods one couldn't enter before.