Seeing that Assad knows that he will not survive if he leaves an intact opposition, even more so if they are victorious military,  Lavrov's statement means absolutely nothing, it's mere lip service.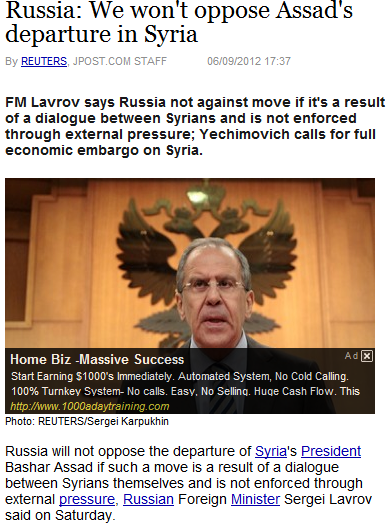 "If the Syrians agree (about Assad's departure) between each other, we will only be happy to support such a solution," Lavrov told reporters. "But we believe it is unacceptable to impose the conditions for such a dialogue from outside."
Earlier Saturday, Russia amplified its call for an international meeting on Syria, saying sanctions or military intervention would "only aggravate the already difficult atmosphere".
"Our logic is that it is not necessary now to apply additional pressure, to introduce sanctions or use the threat of force," Deputy Russian Foreign Minister Gennady Gatilov told the Interfax news agency.