Remember folks, it's never "Islamofauxbia" when they really are trying to subjugate and/or kill you.
H/T: Fjordman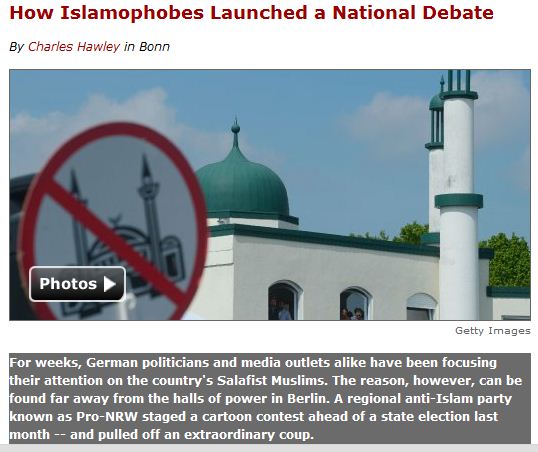 For weeks, German politicians and media outlets alike have been focusing their attention on the country's Salafist Muslims. The reason, however, can be found far away from the halls of power in Berlin. A regional anti-Islam party known as Pro-NRW staged a cartoon contest ahead of a state election last month — and pulled off an extraordinary coup.
Germany's Salafist Muslims are back in the spotlight. Since early May, hardly a week has gone by without another regional or national politician in the country proposing new ways to counter the group's extremist version of Islam or a major German newspaper publishing yet another exposé on the group's insular isolation from the mainstream. Just on Friday, interior ministers from Germany's 16 states, at a regularly scheduled conference with federal Interior Minister Hans-Peter Friedrich, resolved to be increasingly firm in their dealings with the Salafists.
Such hand-wringing in Germany about its Muslim population, extremist or otherwise, is not uncommon. This one, however, is different. Far from being an accidental upheaval of angst resulting from the publication of a book by the likes of the anti-immigration treatise by Germany's provocateur-in-chief Thilo Sarrazin or comments from the country's top politicians, its timing and nature was determined far from the country's conventional opinion makers. It is a particularly unique case of the tail wagging the dog — and in this case, the tail is the tiny, Islamophobic (TT: anti-Islamization) political party Pro-NRW.