The gift that keeps on giving.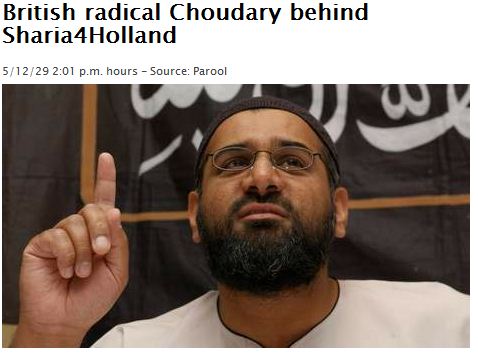 When Abu Qasam, spokesman for Sharia4Holland, on Friday had finished his brief press conference at the Dam, where he called democracy a cancer  and said that the Muslims are after the foundation of Islamic state in the Netherlands, Wilders would be 'dealt with', another man got in a word. It was not Faoud Belkacem, the leader of Sharia4Belgium – he did not come to the Netherlands, but spoke at the Global Caliphate Conference " via Skype.
BadnewsfromTheNetherlandsBlog has more:
It has now become known that one of the speakers at the recent Conference of Fundamentalist Muslims in Amsterdam was Anjem Choudary, an English radical Muslim. Six of his students were condemned to jail earlier this year in the U.K. Together with others, they had planned to place a bomb in the London Stock Exchange. They had also prepared other targets in order to execute attacks in London in the same manner as those which killed 174 people in Mumbai, India in 2008.
H/T: BNFTNB