Goofballs.
The two clowns haven't a clue as to what they are talking about, none, nada. The Malaysian government has long since taken the path towards the Islamization of what could possibly have been called a somewhat moderate state (decades ago), and a result, have severely restricted its minorities, trampling on their human rights. Robert Spencer says it all:
When McCain and Lieberman referred to Malaysia as being a model Muslim country, were the honorable senators referring to Malaysia's steadfast support for Hamas and Iran, Malaysia's sustained and systematic marginalization and oppression of non Muslim minorities, and its (not so hidden) agenda of Islamic supremacy?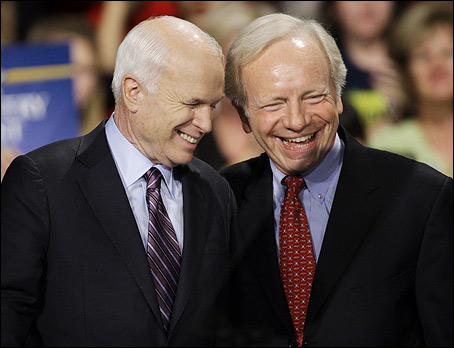 Malaysia a model Muslim country, say US senators
KUALA LUMPUR: Two influential American senators have praised [Malaysian Prime Minister] Datuk Seri Najib Tun Razak for his efforts in introducing reforms and making Malaysia a model Muslim country that practised free enterprise, democracy and progress economically.
Senator John McCain and Senator Joseph Lieberman, who are on a working visit to Malaysia, said they made this observation during their meetings with the Government, opposition members and civil society leaders.
"We are very pleased with our visit to Malaysia. We have been impressed with the economic, political and social development that have taken place," McCain told a joint press conference with Lieberman here on Thursday.
He also said the US looked forward to fair and free elections in Malaysia.