The good ol' days, when men were men and women weren't.
Sorry to those of you who think that this is a great idea, but I'm looking at this from a sense of policy changes over the past 30 years. It was deemed then that exclusive same gender crews were no longer in standing with military policy…now this?
NOTE: It's not to say however that these girls couldn't kick any navy's rear in a fight. Personally, a side of me would love to see an all female boat sink Iranian warships.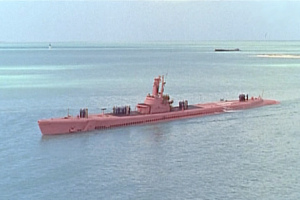 Michelle Obama sponsors Navy's first submarine with all-female crew
By Carlo Munoz – 05/28/12 03:57 PM ET
The USS Illinois, the first Navy submarine to be staffed by an all-female crew, received the support of the White House on Memorial Day.
On Monday, First Lady Michelle Obama officially sponsored the Virginia-class submarine, which will be one of the newest nuclear-powered boats scheduled to enter the fleet by 2015, according to a White House statement.
"It's an honor and a privilege to serve as sponsor of the USS Illinois," the first lady said, according to the statement. "This submarine is a tribute to the strength, courage, and determination that our Navy families exhibit every day."