Totally unacceptable.
Carl in J'lem at Israel Matzav asks a salient question:
Why is the IDF afraid of exposing the practices of 'Palestinian' terrorists? And why are we risking soldiers' lives to take this kind of video if we are not going to use it?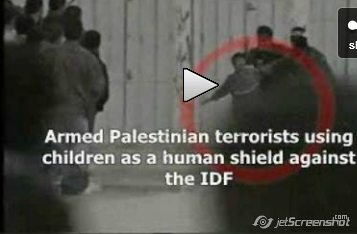 IDF documents Palestinian using human shield
Censored video shows terrorist use woman as human shield while planting explosives. Soldiers irked by 'censorship'; IDF says not all footage taken by military is published
The IDF imposed an embargo on a video allegedly documenting a Palestinian terrorist using a Palestinian woman as a IDF forces.
The video documents an incident that took place two weeks ago, near the Gaza border: Seven Palestinians planting explosive devices north of Beit Lahia were intercepted by IDF soldiers. The soldiers opened fire, injuring some of the men.
The footage shows the terrorists running toward a group of farmers. Then, one of them grabbed a woman and carried her until taking cover behind a building.
Golani Brigade soldiers, who are currently deployed in the sector, and have had the opportunity to see the footage, said it was clear that the woman was forced to run with her assailant until he found cover.
"Why don't they give this video to the media? It should be shown to Goldstone," said one of the soldiers.