If the people in question were anyone else other than the 'Palestinians', descendants of refugees would not be classified as refugees.  In the highly politicized arena of the UN, the descendants of Arabs from southern Syria and northern Egypt, now known (falsely) as the Palestinians, are wrongly conferred with the status of 'refugees', as a political weapon to use against the Jewish state of Israel.
Israel could have tried the same stunt with the +850 000 Jews driven from their homes since time immemorial throughout the Levant and Maghreb, but chose to grant them citizenship and their refugee status ended, like all other groups cast adrift in the modern era. Turkish and Greek population exchanges are another prime example.
Only the 'Palestinians' are conferred with this special classification, for the reasons just mentioned, and now the U.S. Senate is preparing to pass a motion to recognize only the real existing number, which ranges around the 30 000 mark. The U.S. pro-Arab State Dept. however is trying to undermine that attempt by sticking to the Arab League/OIC/UN refugee count, not from an accurate historical accounting, but from a pure (highly flawed) political perspective.
NOTE: To learn about these Jewish refugees who have never been a prime focus of the UN and the various human rights groups, click here.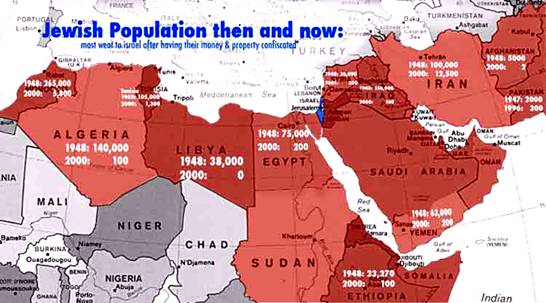 REDEFINING REFUGEE STATUS
STATE DEPARTMENT OPPOSES SENATE AMENDMENT THAT WOULD RECOGNIZE FEWER PALESTINIAN REFUGEES
Washingto Free Beacon: The Obama State Department is gearing up to oppose a Senate amendment that would potentially alter the number of recognized Palestinian refugees from around 5 million to about 30,000, according to a senior GOP foreign policy aide familiar with the legislation.
Sen. Mark Kirk (R., Ill.) offered a contentious amendment that would instruct the State Department to report on numbers of Palestinian refugees who were physically displaced from their homes in Israel versus those who are descendants of refugees.
Opponents of the amendment believe the amendment—which is slated to be debated by the Senate Appropriations Committee this morning as it examines fiscal year 2013 funding for the State Department—argue that it is the first step to cutting the amount of aid the U.S. contributes to the United Nations Relief and Works Agency, which currently cares for around 5 million Palestinian refugees.