They couldn't care less really.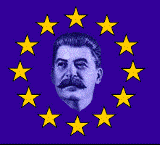 EU Documents Repeat False NGO Claims and Increase Tension
EU Foreign Ministers today are expected to condemn Israeli activity in "Area C," which, according to the Oslo agreements, is under full Israeli responsibility. In advance, NGO Monitor released a detailed report, Highly Sensitive EU Documents Repeat False NGO Claims, showing the central role of political advocacy NGOs in six documents leaked by the EU, including a report on Area C.
As reported in numerous media outlets, each document contains false allegations and highly distorted information from these NGOs. Nevertheless, these erroneous and dangerous documents were the basis of EU policy recommendations.
'EU reports based on false info'
MAY 14, 2012 ·
A JERUSALEM-BASED organisation has released a report lambasting the European Union for spreading inaccurate information about Israel and the Middle East conflict.
Between 2010 and early 2012, six documents from the offices of EU representatives in Israel and the West Bank have been leaked, and all of them were critical of Israel. Now, NGO Monitor, Israel's self-appointed watchdog of human rights bodies, said it has identified dozens of factual inaccuracies in the reports.
Some of the errors are statistical bloopers. For example, one of the reports stated that while in 2009 the Palestinian population of the Jordan Valley was 56,000, before Israel seized the area in 1967 it "was estimated at between 200,000 and 320,000". NGO Monitor wrote in response: "Israel's 1967 West Bank census showed 9078 residents in the Jericho district, which encompasses Jericho – the only city in the Jordan Valley – and its outlying areas."
Other mistakes are misrepresentations of Israeli law. Only citizens of Israel or Jews can buy property built on state-owned land, according to one of the reports. However, the vast majority of all Israeli homes are built on state-owned land, and Israeli law allows for every citizen or permanent resident to buy property built on state land, regardless of religion, race, or nationality.
"The EU's reliance on false information … adds to the existing friction between Europe and Israel." Gerald Steinberg President, NGO Monitor NGO Monitor doesn't only object to the fact that the inaccuracies appear – but also to the reason they appeared.
It has analysed every word of the reports, and has identified the source of most of the false claims – Israeli and Palestinian human rights groups. It claims that the EU blindly accepted assertions made by not-for-profits such as the Israeli Committee Against House Demolitions and Yesh Din without verifying them, in what it calls a "failure to exercise due ­diligence". "