The reason I bring this off topic issue up, is the insistence of The Sun to label these socialist ultra-nationalist socialists (neo-nazis) as "right wing", as if they belong on the side of free market, limited government supporting conservatives. They don't. They are Left-wing ultra-nationalist socialists.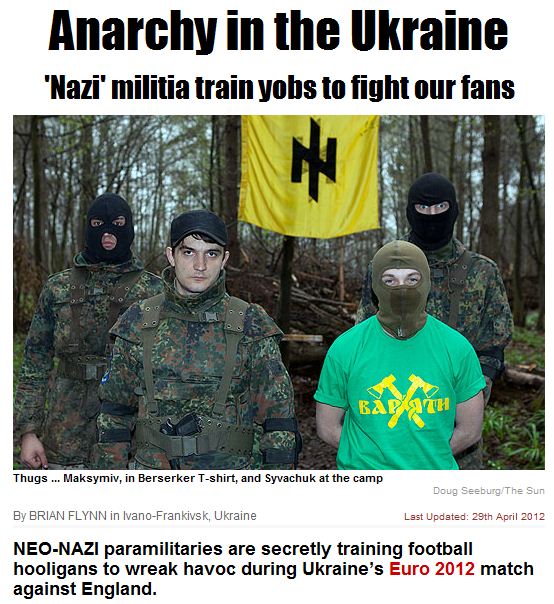 An undercover Sun team filmed members of extreme right-wing militia (TT: Left-wing ultranationalist socialists) The Patriot of Ukraine as it drilled thugs in unarmed combat, knife fighting and use of rifles and pistols at a secret camp.
One yob boasted how they planned to riot and hurl racist abuse at black England stars such as Rio Ferdinand and Ashley Cole.
He told us: "Of course we will boo your black players. There will be fighting too. Why should we apologise for it?"
The Sun team infiltrated the Patriots' training camp by posing as British sympathisers keen to make closer ties and learn from their methods.
The group's leaders said the hooligans were seen as "foot soldiers" who would proclaim their vile message of racial hatred to the world during Euro 2012.
All three of England's group matches are in the Ukraine — which is jointly hosting the tournament with Poland.
The Patriots, whose 3,500 members run illegal military training camps, teach the thugs fighting skills and offer "education" in their ideology.