Just remember that the next time the panhandlers of multiculturalism come knocking at your door asking for your vote or donations. We are destroying ourselves from within.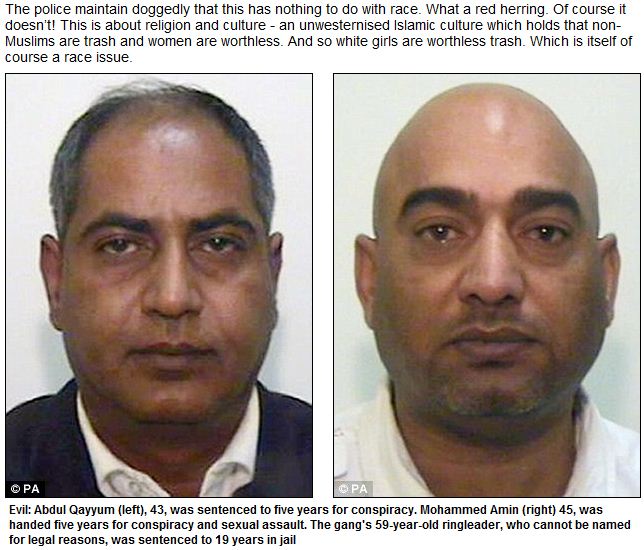 The Rochdale sex ring shows the horrific consequences of Britain's 'Islamophobia' witch-hunt
By MELANIE PHILLIPS
PUBLISHED: 16:40 GMT, 9 May 2012
So now we can see the outcome of the witch-hunt against 'Islamophobia'.
With the conviction of nine men for organised sexual crimes from rape to sex trafficking, the full horrific details of more than two decades of sexual violence against young, predominantly white girls living in children's homes in the north of England have been revealed.
The gang lured an officially estimated 47 girls (the figure may well be higher) aged 12 to 16 with gifts, alcohol and drugs before passing them around to have sex 'with several men a day, several times a week' in flats, houses, cars, taxis and kebab shops.
After phone calls inviting them to come and have sex with a girl, men would turn up to do so by the taxi-load. One 13 year-old was forced to have sex with 20 men in one night.
Terrible as all this is in itself, there is far worse.  For this monstrous abuse could all have been stopped years ago. The authorities had evidence this was going on as long ago as 1991.  

The question immediately arises: how on earth could a blind eye have been turned to all this by the social services departments under whose care these girls were living, as well as by the police to whom they went for help?

The answer is as clear as it is devastating. For these men were all Muslims: eight of them of Pakistani origin and one from Afghanistan. Early last year, the Times reported that 50 of the 56 men convicted in 17 street-grooming prosecutions from 13 northern towns and cities were Muslim. Identifying this particular behaviour meant identifying the particular community in these northern towns where it was being committed. And what paralysed these authorities was that, in politically correct Britain, no criticism is allowed to be made of religious or ethnic identities. The authorities could not allow themselves even to think there was a problem with any minority community. So they pretended the problem was not what it actually was. And so the child rape industry proceeded with repeated failures to prosecute.