I doubt Elie Wiesel knows what he's walking into.
This woman is one of these hard Leftist utopian statists who envision a world of their own choosing and then set to work regardless of the reality, and it's always the West being given the short end of the stick.
Samantha Powers:
What we don't need is some kind of early warning mechanism there, what we need is a willingness to put something on the line in helping the situation. Putting something on the line might mean alienating a domestic constituency of tremendous political and financial import; it may more crucially mean sacrificing — or investing, I think, more than sacrificing — billions of dollars, not in servicing Israel's military, but actually investing in the new state of Palestine, in investing the billions of dollars it would probably take, also, to support what will have to be a mammoth protection force, not of the old Rwanda kind, but a meaningful military presence. Because it seems to me at this stage (and this is true of actual genocides as well, and not just major human rights abuses, which were seen there), you have to go in as if you're serious, you have to put something on the line.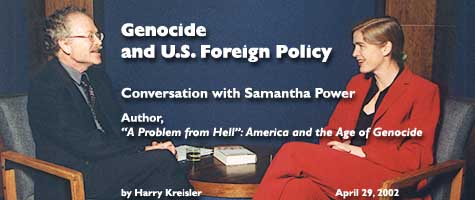 Samantha Power to chair Obama's Atrocities Prevention Board
By Lynn Sweet on April 23, 2012 8:05 AM | No Comments
WASHINGTON–Samantha Power–who won a Pulitizer Prize for her book on genocide and now advises the Obama administration on the subject–will chair President Barack Obama's new Atrocities Prevention Board, which gets down to work Monday as Obama delivers a speech at the U.S. Holocaust Memorial Museum.

The White House released recommendations of the board; details HERE.
He will be introduced by Elie Wiesel, the Holocaust survivor and author who won the Nobel Peace Prize in 1986. Before his speech, Obama is touring the museum with Wiesel and Museum Director Sara Bloomfield.
H/T: Yid With Lid