What could possibly go wrong?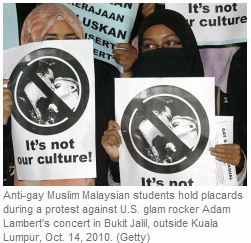 The main problem here as I see it, though many Chrsitian groups are as vocally anti-Homosexual ("love the sinner but hate the sin"), no one sees them advocating the stoning of Gays except for a handful of inbred cults. Islam on the other hand has over 1400 years of Islamic jurisprudence backing up the demand for them to be killed, and carry out these death sentences in the modern age. As I see it, that's a very big difference here.
H/T: Scottish Infidel
Mosque in gay-hate row opens a new fee-paying school where pupils will memorise the Koran and speak Arabic
By DAILY MAIL REPORTER
PUBLISHED: 23:51 GMT, 10 April 2012 | UPDATED: 23:51 GMT, 10 April 2012
A mosque where clerics were filmed allegedly preaching hate against homosexuals and non-Muslims is opening a fee-paying school.
Pupils will be expected to memorise the Koran and wear traditional Pakistani uniforms when it opens in Birmingham this September, with fees of £3,500 a year.
Arabic will be the 'key language' taught to the annual intake of 20 students, aged 11 to 16, at Green Lane Masjid Independent Boys School.