HEART WRENCHING.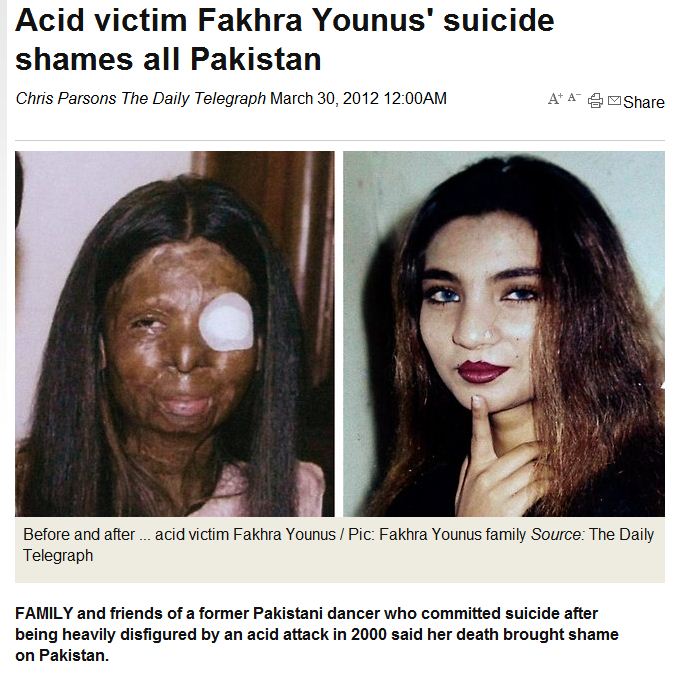 Fakhra Younus, 33, leapt to her death from a sixth floor building in Rome on March 17, almost 12 years after the attack which she said left her looking "not human".
At the time of the attack, her ex-husband Bilal Khar was accused of entering her mother's house and pouring acid over her face as she slept.
The attack, in front of her then five-year-old son, left her unable to breathe and fighting for her life. She underwent 39 surgical procedures to repair her face in the past decade.
The acid almost completely corroded her nose, burned off her hair, fused her lips, blinded her in one eye, destroyed her left ear and burned her breasts.
After being rushed to hospital she said "My face is a prison to me", while her distraught son said at the time "This is not my mother".
Ms Younus moved to Italy to continue treatment in Rome. She left a suicide note complaining of legal indifference to such atrocities and insensitivity by Pakistan's rulers. Bilal Khar was arrested in 2002 and charged with attempted murder after the attack, only to be released on bail after five months.
The ex-parliamentarian and son of a wealthy Pakistani governor was eventually cleared of the attack, though many believe he could have used his family connections to escape conviction.
VIA: TROP