Again!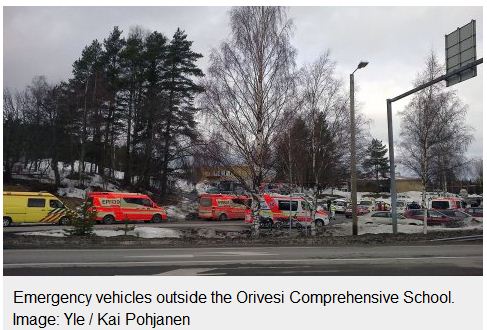 UPDATE: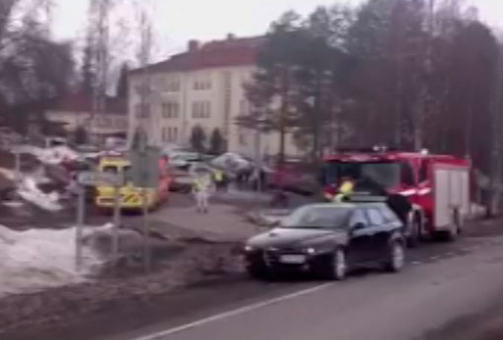 The suspect had previously escaped from the school with the student
Ilatalehti: According to information from a number of sources, the suspect of the shooting in the Orivesi school (born in 1989) had disappeared earlier in March with a female student from the school. According to the Iltalehti's information, the suspect shot the hand of the girl's father. The police did not confirm this Iltalehti.
A missing report was filed of the girl, and the police searched for her and her male friend. She was eventually found unharmed. The link between suspect and the student was reported by the Keskisuomalainen and Aamulehti newspapers.
According to the Keskisuomalainen the girl was in class, and the man shot through the door. According to the Aamulehti her parents had applied for a restraining order against the man.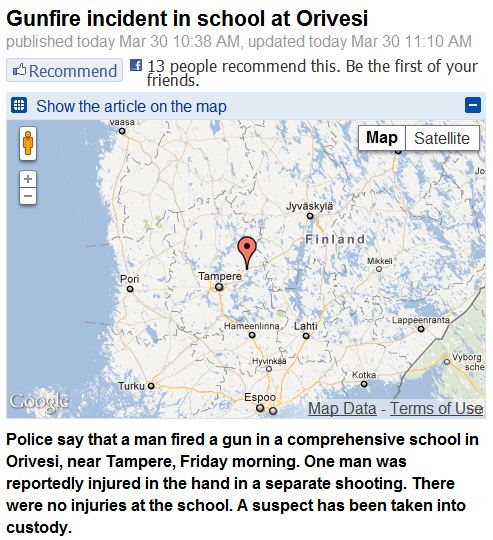 Police report that the suspect is a local man born in 1989.

Emergency services received a call at around 9:30 AM that a man had been injured in the hand by gunfire at a nearby office. Soon thereafter, a report was received of shooting at the school. Police believe that the shooter in both incidents was the same man.

Police apprehended the suspect, who they say took a shotgun into the building and fired four shots from a school hallway into a classroom door.

Police say no motive for the shootings is yet known.

The newspaper Aamulehti was first to report the incident.
H/T: Vlad ( I thought he was asleep)