And the US State Dept. will remain mute over the participation of, Kenneth R. Insley, Jr., who "bills himself as a consultant to the US State Department." Also, what about the Christian branches who had representatives there?
"four Catholic bishops, two patriarchs, an Anglican minister from the UK, and a representative of the Roman Orthodox Patriarchate in Jerusalem, as well as attendees from Religions for Peace (including the American William F. Vendley).  The holocaust-denying, anti-Zionist rabbinical group Neturei Karta has six persons attending."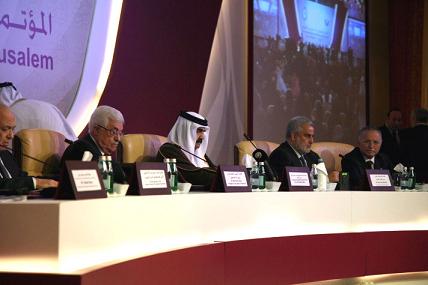 Biggest anti-Israel conference evah? Americans there; UN, Europe in official attendance
J.E.Dyer: An "International Conference on Jerusalem" is being held 26-27 February in Doha, Qatar. The conference was scheduled by the Arab League during its meeting in Sirte, Libya in 2010. Its purpose is to combat the "Judaization of Jerusalem." In the words of the Global Muslim Brotherhood Report, which tracks Muslim Brotherhood activities, this month's conference "represents an unprecedented coalition arrayed against Israel."
This isn't hyperbole. The conference is unusually well advertised in English, being referred to in the media regularly as a "conference on Jerusalem," rather than sparsely as a "conference on al-Quds," the Arabic (and larger Islamic) term for Jerusalem. Yousef al-Qaradawi, "spiritual leader" of the Muslim Brotherhood, has held a number of conferences on Jerusalem in the last decade, hosting them around the Arab world and flying largely under the radar in terms of his media posture with the West. Researchers on the earlier Qaradawi conferences were more likely to find them under "al-Quds" than under "Jerusalem." But the February 2012 conference is simply billed – even in a number of Arab-world English-language media – as the "conference on Jerusalem."
Yet that doesn't fully convey the conference's confident tone. The conference is being given a higher profile than usual in English-language outlets, but the English transcriptions (such as the ones at the official conference website) don't all provide the event's full name: "International Conference for the Defense of Occupied Jerusalem." Implied in this posture is a sense of momentum behind, and mainstreaming of, anti-Zionist themes.