Statists just love to pass around your wealth, and the undeserving  just love to take it.
More taxpayer money being redistributed to those who have done absolutely nothing to earn that money, on the contrary, they have done everything possible not to earn that money yet the idiots of the EU fork it over with goonish smiles on their faces.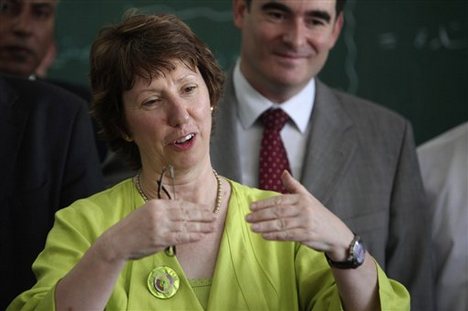 Mideast: EU; 55 million euros to UNRWA, 
Ceremony in Gaza with UNRWA commissioner Filippo Grandi
(ANSAmed) – BRUSSELS, JANUARY 25 – EU High Representative for Foreign Affairs Catherine Ashton and the general commissioner of the United Nations Relief and Works Agency for Palestine Refugees in the Near East (UNRWA), Filippo Grandi, today signed an agreement in Gaza regarding a financing of 55.4 million euros, the largest single donation ever received by the organisation. The money will be used to guarantee basic services like education, healthcare and to improve life in general in the refugee camps for Palestinian refugees in the West Bank, Jordan, Syria and Lebanon.
"The continuing support provided by the EU to UNRWA is crucial in our strategy to bring peace to the region," said Ashton in a short ceremony in Gaza. Ashton called the UN agency "the driving force that guarantees organisation and provides essential services." Filippo Grandi expressed his gratitude to the EU for the support that allows "the most vulnerable Palestinians to be less poor.
The concrete impact of this contribution is even more important because it comes at a time when millions of people in the region are asking for better living conditions and for more opportunities." The EU is the largest multilateral donator to give international assistance to the Palestinian refugees. In the 2000-2011 period the EU allocated 1.2 billion euros to the Agency, not counting contributions from single member states.