Iowa is more important than some believe.
Look to Iowa to show you what will happen if any of the Republicans run a "third party" ticket, disaster, when the top spot is just ripe for the picking by any true conservative candidate. Michelle Bachmann, as much as I like her, needs to step aside and throw her weight fully behind Rick Santorum, and if Rick eventually fails, then the both of them should back Newt to the hilt. Just saying. KGS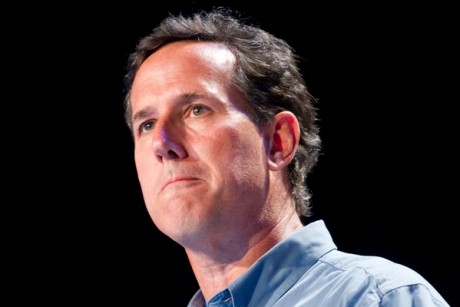 Evangelicals are in a civil war in Iowa. If they could unite behind a candidate, they could defeat Mitt Romney and Ron Paul in the Iowa caucuses, but they can't. Part of the problem is that three candidates are running for evangelical support but Iowa simply isn't big enough for the three of them. They're splitting the vote. Rick Perry, Michele Bachmann, and Rick Santorum are all making a play for the social conservatives they need to propel them onward. In 2008, sixty percent of the participants in the Iowa caucuses were evangelical.
Eight days ago Rick Santorum won the personal endorsements of two evangelical leaders—Bob Vander Plaats, CEO of the Family Leader, and Chuck Hurley, President of the Iowa Family Policy Center. The endorsements may have been just enough to push Santorum up in the polls—at Bachmann's expense. Vander Plaats asked Bachmann to drop out and endorse one of the social conservatives.
The Bachmann team is simply imploding with the defection of a top aide to the Ron Paul camp.  She herself has said that it would take nothing less than a "miracle" to win. When you have to keep insisting that you aren't dropping out—it may be time to drop out.  Look to Bachmann to exit stage left after Iowa. The question becomes who will she endorse.