I'm usually for anything that pisses the top Turks off.
Personally, I'm against any legislation that restricts freedom of speech, due to the dangers primarily of the slippery slope. Besides, it's legislation based entirely on laziness. No law is going to teach people about the Holocaust of the Jews and the Armenian genocide, it takes people on the local level willing to take the time and effort to ensure that people are well informed.
No amount of legislation is going to stop nut-jobs denying genocide, but legislation on the books making it a crime to deny that genocide took place, does in fact create an unnecessary complacency in society. Each generation has to be willing to be diligent enough to spread the word, school and train the next generation of the brutalities of past generations, there is no easy way around it. You can't end genocide denial by making a martyr out of nut-jobs who want to do just that, by passing anti-free speech legislation. KGS
Turkey Withdraws Ambassador from France
Following a move by the French lower house of parliament to pass a bill making it a punishable crime to deny the genocide of Armenians, Turkey has announced retaliatory measures. The issue of the killings between 1915 and 1917 has long divided Ankara and European countries.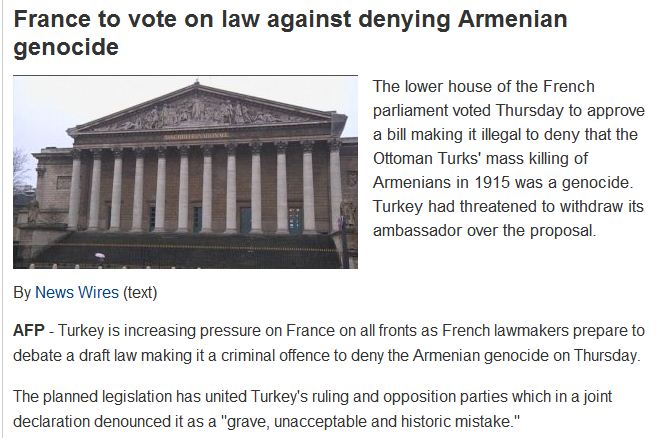 "We strongly condemn the proposal which denigrates Turkish history," the lawmakers said, urging France to consider its own past, including its involvement in bloodshed in Algeria and Rwanda.
Around 100 people demonstrated on Wednesday in front of the French embassy in the Turkish capital, chanting slogans.
The protestors unfurled banners reading, "Genocide master imperialist France," "What were you doing in Algeria?" "What were you doing in Rwanda?" and "Liar Sarkozy."
The group later dispersed without incident.
The French parliament is on Thursday expected to approve the bill, which would see anyone in France who publicly denies the genocide face a year in jail and a fine of 45,000 euros ($58,000).