One thing that the TT was looking for was any mention of the traditional allahu akbar being shouted while the Muslim was committing murder and mayhem. So far that has not been any mention of that (not that it didn't happen), what facts have been ascertained is that the guy was heavily involved in narcotics and collected illegal weapons. We'll have to wait to find out what else is dug up on this guy, but I do have a gut feeling over it however. KGS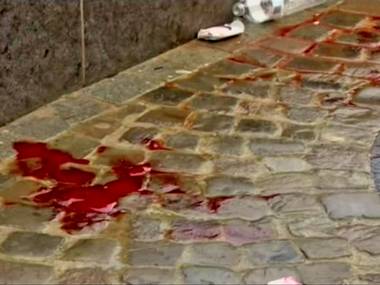 Belgian gunman's grenade attack on Christmas shoppers kills four
The cobblestone streets of Liège were turned into a bloody battlefield yesterday as a known criminal with a passion for guns opened fire on Christmas shoppers, killing four and wounding more than 70 before killing himself.
Shoppers dived for cover shortly after noon as a series of explosions and gunfire erupted across the city's main square, Place Saint Lambert. Witnesses described seeing a man hurling grenades from the roof of a bakery overlooking the square at a group of people who were waiting for a bus. He then followed up with repeated bursts from an automatic rifle.
Police named the attacker as Nordine Amrani, a 33-year-old drug dealer and convicted criminal, who collected illegal weapons.
His victims were two teenagers who had just finished an exam and a 75-year-old woman, according to the city's public prosecutor. Last night surgeons lost the battle to save a two-year-old girl, who died of her injuries. A further four patients were in a critical condition.
One of the dead teenagers was named locally as Pierre Gerouville. Tributes poured in to a Facebook page set up to honour the 17-year-old. "I can't find the words," wrote one of his friends. "You left too soon, we'll never forget you."
Amrani died in the attack but police say he was not brought down by their fire. "It's uncertain yet whether he killed himself or whether his weapons exploded," public prosecutor Danielle Reynders told a news conference.