But they do it all the time!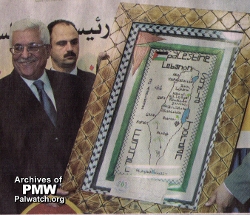 And Fattah is now considered by the soft headed Europeans and the dopes in the current administration in the White House, as the "moderate" Palestinian party. KGS
Website 'wiped Israel off the map'
By Matthew Ashton | Press Association – Wed, Dec 7, 2011
Israel had apparently been omitted from a map on the Palestinian Diplomatic Mission website
A website has been admonished for apparently wiping the state of Israel off the map.
The Advertising Standards Authority (ASA) banned the Palestinian Diplomatic Mission to the UK from using a "misleading" interactive map on its website.
Headed Discover Palestine, the map featured the whole of Israel, in addition to the occupied Palestinian territories in the West Bank and the Gaza Strip, in the red, green and black colours of the Palestinian flag.
It also included links to tourist information which did not refer to the state of Israel.
A string of complaints objected to the implication that the entire area on the map was Palestine and the state of Israel did not exist, a view the ASA upheld.
The ASA said: "We considered that the average consumer would infer from the map and the linked information that the total area represented by the map was the occupied Palestinian territories.
Because this was not the case we concluded that the website was misleading."