---
The idiocy of the Finnish mainstream media is laid bare to see…
Outside of the few journalist outlets that I follow, the majority are a collection of underachieving nitwits. Take for example the following article (h/t Vasarahammer) announcing the interview of the Iraqi terrorist, Mullah Krekar, who has been living in Norway for years on the Norwegian welfare system.
The Finnish program, 45 Minutes wanted to create some clickbait for itself, so they picked Heikki Kauhanen to interview this Islamonazi. Shame on the lot of them for giving this guy a platform to spew his nonsense.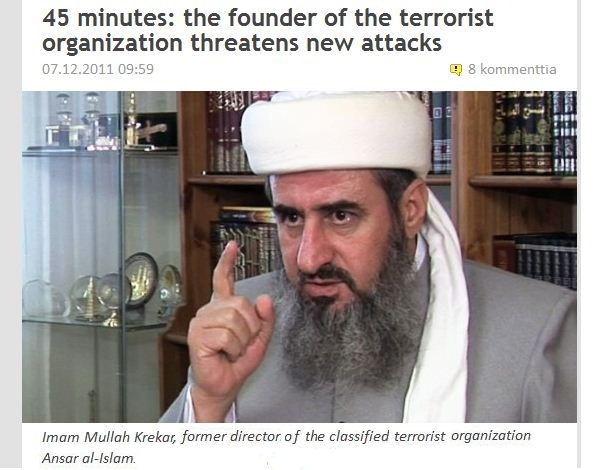 Former Director of the terrorist group, extremist imam Mullah Krekar  threatens the West with new terrorist attacks.
Attacks in the West will give an electric shock, then they'll say that the other side is human. It has to happen to the United States, so that it knows the other's humanity. So they know that other people are not slaves or animals, claims Krekar living in Norway in a 45 minute in an interview for the MTV3 program
According to him, the new attacks are necessary.
It was decidedto expel the Kurd, Krekar  in  2005 from Norway, but due to Iraq's unstable security situation, and Krekar being threatened with the death penalty deportation has not been implemented.
Krekar is the former Director of the terrorist classified Ansar al-Islam organization. A year ago, he was the target of an attempted assassination in Oslo.
Mullah Krekar, gave a rare interview with two Finnish media.
More on the topic tonight on MTV3's program for 45 minutes at 20.05 and tomorrow morning, in the Turku Sanomat