Yes it's that bad.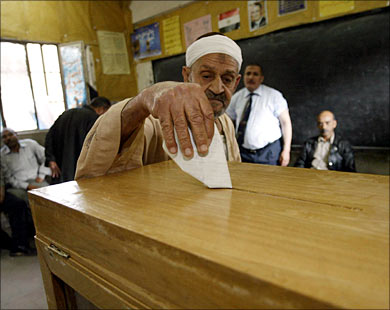 The analysts are talking of anywhere between 40-60% of the vote (I've even heard of 71%) going to the Muslim Brotherhood and the Salafists. Lets be clear here, there is only hair shade difference between the MB and the Salafists, we're only talking about nuance here. So any reference to the MB as 'moderates' has to be placed into the proper context of, "moderate next to what?". KGS
Islamist set to sweep initial Egypt elections
By OREN KESSLER AND REUTERS
12/02/2011 07:54
Official results delayed again; Muslim Brotherhood expected to receive largest share of votes, but strong turnout for fundamentalist Salafists could be elections' biggest surprise.
Islamists appeared set to win a solid majority of seats in Egypt's first free parliamentary election in decades, but results were delayed for the second day after officials said not all ballots had been counted.
The Muslim Brotherhood, Egypt's oldest Islamist group, said its new Freedom and Justice Party (FJP) was set to win about 40 percent of seats allocated to party lists in this week's vote, which passed off peacefully, albeit with many irregularities. Other estimates have put the Brotherhood's take at close to 50% or even 60%.
The elections' most unanticipated result, however, came from religious fundamentalist Salafist parties, which some predict will take as many as a quarter of all votes despite having been nonexistent just a year ago.
"People are surprised at how strong the Islamists are showing," Michael Wahid Hanna, an analyst at the US-based Century Foundation, told The Jerusalem Post from Cairo. "We don't know final results yet….
We know Islamists will do very well, but the final picture is murky."
According to Hanna, "It's the Salafists who are a real, new political force. They won't run or rule the country, but they'll have a real say."