Just thought that you would want to know. KGS
H/T: Sisu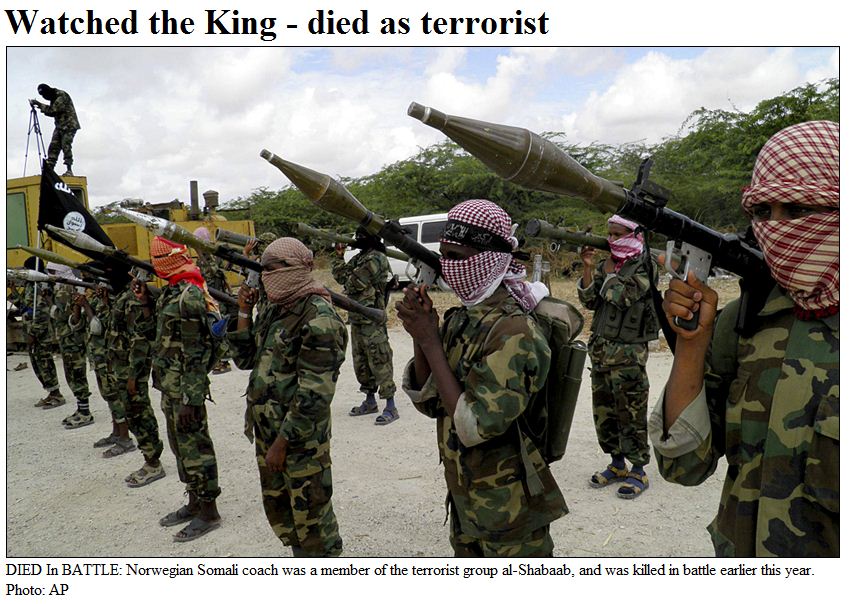 DIED In BATTLE: Norwegian Somali coach was a member of the terrorist group al-Shabaab, and was killed in battle earlier this year.Photo: AP
By Lars Aker Haug , Tom Bakkeli , Dennis Ravndal and Morten Hopperstad
(AP) Norwegian-Somali was a model soldier with Norwegian friends.So he traveled to Somalia to fight for Allah.
1984: Norwegian-Somali born in Burao in northern Somalia, today part of Somaliland.
1994: when ten year old boy coming to Norway together with other relatives.
2005: After finishing high school is doing Norwegian-Somali military service of His Majesty the King's Guard. There he becomes a part of the escort department that will carry the royal family and other social supports to safety in case of war.
2006. Norwegian-Somali then gets a job at Securitas after having completed their military service.
2009: He comes in contact with a religious environment with connections to Sweden and Finland.
2010: Norwegian-Somali calling home to his father and says that he has joined the Shabaab in Somalia.
2011: Norwegian-Somali's unknown wife calls and says that his son has died in battle.The two had no children.
Without notifying the family or friends, traveled Norwegian-Somali to Somalia and joined the terrorist organization al-Shabaab.
SACRED Warriors: Somali radical Islamist group al-Shabaab its warriors are convinced that they are fighting a holy war against unbelievers. Photo: AFP
The startling information appears in an unpublished report by the Defence Research Establishment (FFI) that AP has access to.The report is authored by Stig Jarle Hansen, a world leader in Somalia experts. 

Pst confirmed to AP that the former soldier in His Majesty the King's Guard was killed in combat in March of this year.

– PST knows that the person earlier this year were killed in fighting in Somalia. There is reason to wonder why a seemingly well-integrated Norwegian citizen traveling to Somalia to join a terrorist organization, says communications director Trond Hugubakken the Police Security Service (PST).
27-year-old is the first known Norwegian citizen who has been killed in fighting for a terrorist organization. He died in March this year, allegedly in a battle with Somali government forces.
In 2005 and 2006 he served with the military service of His Majesty the King's Guard.
– We have the media been informed that a named civilian has been killed in Somalia. We are also aware that he – like many others – have completed their military service in the Armed Forces a few years back, said Lt. Col. Bent-Ivan Myhre spokesman of the Armed Forces.