The Boko Haram, muslims who rip the mask of "peace and tolerance" from the face of Islam.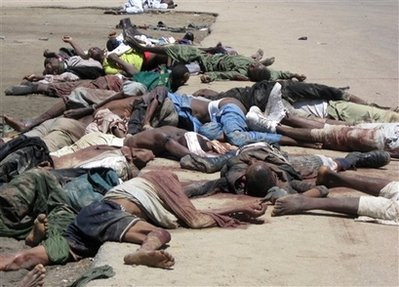 Nigeria radical Muslim sect kills security agent
LAGOS, Nigeria (AP) — A radical Muslim sect in northeast Nigeria on Sunday gunned down another security agent following attacks earlier this week that left at least 69 people dead.
The latest attack by the sect known locally as Boko Haram targeted a police inspector in the city of Maiduguri, the sect's spiritual home. Sect gunmen stopped the officer's car at gunpoint as he neared a mosque to pray with his family, local police commissioner Simeon Midenda said.
Gunmen ordered the family away, then shot the inspector to death, Midenda said. The sect members later allowed his family to drive the car away, he said.
The killing prompted a frank acknowledgment from the police commander, whose men remain under siege from constant assassinations by the radical sect.
"Our men who live in the midst of the Boko Haram are not safe," Midenda said.
Meanwhile, statements issued late Saturday show the U.N. Security Council called the attacks Friday in the cities of Damaturu and Maiduguri "criminal and unjustifiable" and asked members to help Nigerian authorities bring those responsible to justice.
A statement on behalf of Secretary-General Ban Ki-moon called for "an end to all violence in the area," while offering sympathy for the victims.