Here we go again.
Islamonazis fire rockets into Israel, the Israelis take defensive measures to neutralize the threat, the Islamonazis then accuse the Israelis of defending themselves then use it as a pretext to launch yet even more rockets. The thin red line woven into the chain of events is the fact that the Islamonazis believe that they have the god given right to murder Jews whenever they feel like it, and the Jews insist on denying their delusion. KGS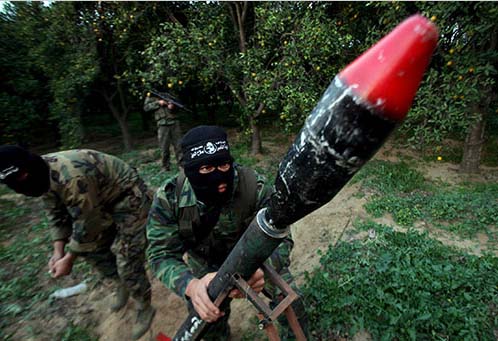 Israel: Army has green light to stop Gaza rockets
By IAN DEITCH
Associated Press
AP Photo/Bernat Armangue
JERUSALEM (AP) — Israel has authorized its military to take all necessary steps to stop rocket fire from Gaza, including a ground operation, an Israeli military official said Tuesday, as Egypt worked on a truce and said Israel had agreed to delay stepping up its response.
The Israeli government decision stopped well short of ordering tanks to roll into Gaza, and it appeared unlikely that would happen, as rocket fire all but stopped over the past day. The official said the decision authorized the military to act in accordance with the severity of Palestinian attacks, meaning that a ground offensive would be ordered only after massive rocket fire.
The Israeli official spoke on condition of anonymity because no statement was made.
Egypt's ambassador to the Palestinian Authority said Tuesday that Egypt obtained an Israeli pledge to hold its fire while efforts were under way to persuade Palestinian militants to stop the rocket barrages.