THE OCCUPY WALL STREET GANG IN THE RAW
Yes folks, this is a real weird chant, and something that only a group of leftist nut-jobs could come up with. Please be reminded, that congressman Lewis lied about the "N-word" being shouted "15 times" at the rally at the Capital building. Now he's at the receiving end of something that really happened, complete rejection to voice his thoughts to a crowd he believed shared his ideals.
They're a bizarre collection of died-in-the-wool marxists and other assorted statist collectivist nut-jobs who should all leave the US and join the grand utopias of N. Korea and Cuba. This is the mob that would strip you of everything you have, shove you into reeducation camps and murder the rest of us deemed refuseniks. A sick bunch of flat earth dead enders. KGS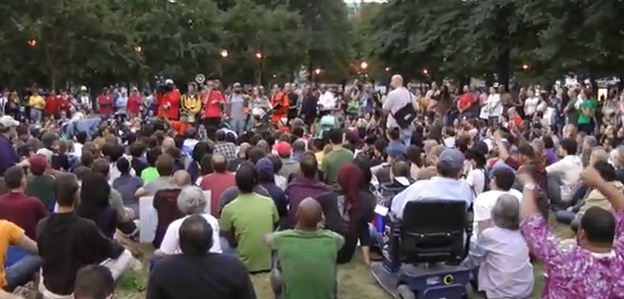 Many curious citizens and media outlets came to the first Occupy Atlanta event, and were visibly shocked and confused by the consistent Marxism employed by the group. People abandoned their individuality and liberty to be absorbed into a hypnotizing collective. The facilitator leader made it clear that he was not a "leader" and that everyone was completely equal; words often spoken by leftists, but in this case they actually applied their philosophy. Into this surreal and oppressive environment, Rep. John Lewis, a civil rights hero and icon of American leftism, came to speak as has so often done at left-wing rallies and events in Atlanta. He is practically worshiped in Democrat circles, and was visibly stunned to see these Marxists turn him away. It was reminiscent of previous Marxist revolutions in history when those who ignorantly supported the revolutionaries are, over time, purged and rejected for the "good of the collective", when their usefulness has expired.