Last year the Tundra Tabloids was invited to attend the founding of the Die Freiheit party in Berlin, which featured not only party leader, René Stadtkewitz's keynote speech, speaking, but also Geert Wilders speaking as well. This year however, the TT wasn't able to attend,  but some of the TT's colleagues were there. Thanks to the Gates of Vienna for publishing the speech by Geert Wilders, here's a portion and hopefully a video with the English subtitles will soon be online. KGS
NOTE: Picture is courtesy of Elisabeth Sabaditsch-Wolff, published at her request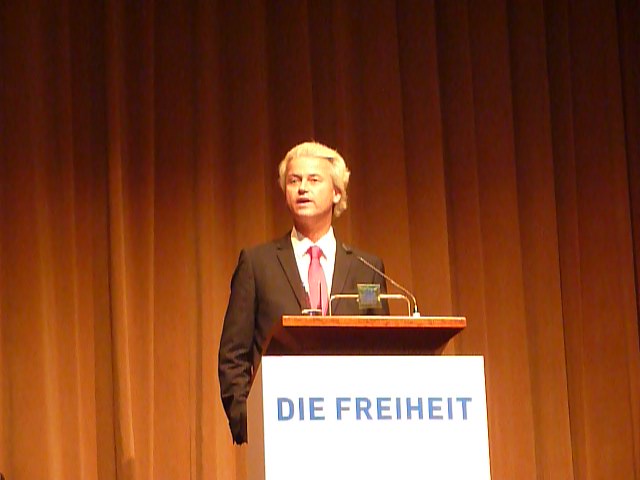 Restoring the Supremacy and Sovereignty of the Nation-State
From Politically Incorrect, here is the speech given by Geert Wilders today in Berlin. Mr. Wilders was invited to a political rally by René Stadtkewitz of Die Freiheit:
Speech by Geert Wilders in Berlin 9/3/2011
The Threat of Europeanization and the Need to Defend the Nation-State
Thank you for inviting me to Berlin. It is an honour to be here in this beautiful city of Berlin. When I was here last year I emphasized how important Germany is for all of us. We all benefit from a healthy, democratic, self-confident Germany.
Much has happened since my last visit. In the Netherlands we were able to achieve many amazing things. We have successfully started to roll back the process of Islamization in the Netherlands.
We have done so in a peaceful way and through the democratic process. Recently, a deranged narcissistic psychopath from Norway committed a horrible crime. In cold blood he murdered nearly eighty innocent fellow citizens. The assassin pretended to be a concerned European. He said that he had committed his atrocity because "It is meaningless to participate in the democratic process."
But he is wrong! The mass murderer from Oslo murdered and maimed, and he justified his heinous crime by denying — I quote — "that it is remotely possible to change the system democratically." — end of quote.
But he is wrong! The Oslo murderer falsely claims to be one of us. But he is not one of us. We abhor violence. We are democrats. We believe in peaceful solutions.
The reason why we reject Islam is exactly Islam's violent nature. We believe in democracy. We fight with the force of our conviction, but we never use violence. Our commitment to truth, human dignity and a just and honourable defence of the West does not allow us to use violence nor to give in to cynicism and despair. We cherish the tradition of Aleksander Solzhenitsyn, Jelena Bonner, Lech Walesa and Ronald Reagan. These heroes defeated a totalitarian ideology by the power of their conviction and without firing a single shot. As the ex-Muslim and Islam-critic Ali Sina said in a reaction to the Oslo atrocity: "We don't raise a sword against darkness; we lit a light."
More pics from behind the scenes:
The TT's good friend ESW with Geert Wilders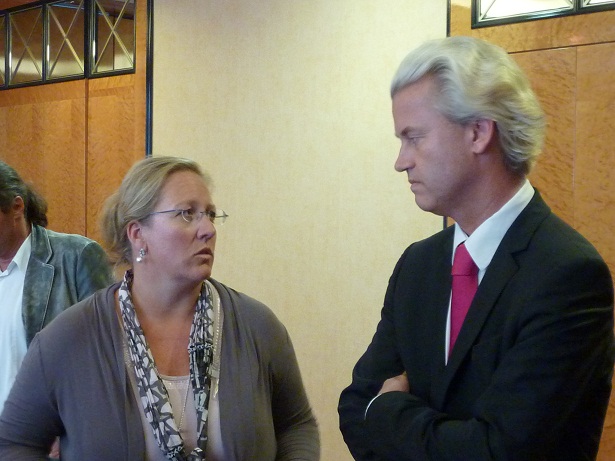 And the TT's buddy, Paul Weston, in the picture below.