What the Swedish Minister for Integration, Erik Ullenhag, isn't telling you: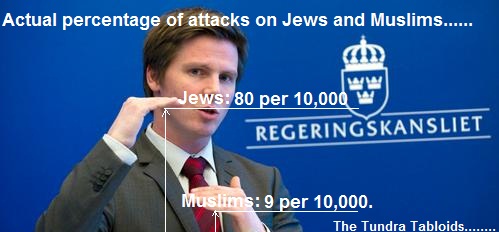 … and that the overwhelming majority of those attacks on Jews are coming from the Muslim community.
Erik Ullenhag in The Local,
"Sweden as a whole is a tolerant country but this report shows that racism is growing and is being professionalized on the internet. There is today a small but growing minority that harbour hatred against Muslims and Jews,"
This lumping together of Muslims with Jews is meant to provide a convenient cover for the activities of some within the Muslim community in Sweden, which engages in xenophobic, ant-Semitic behavior that far exceeds their demographic numbers. It has been established, and now part of the public record that the Swedish state takes a blind eye approach to these acts of Muslim anti-Semitism.
In 2006, the Swedish Chancellor of Justice refused to press charges against a mosque that provided audio tapes containing extremely degrading material (that they are apes and pigs) about Jews. The then Chancellor, Göran Lambertz, said at the time:
"These statements "should be judged differently and considered to be allowed/legitimate, because they are used by one party in an ongoing deep conflict where battle cries and defamation are contained as everyday elements in the rhetoric around the conflict".
This kind of defamation found in the Swedish Muslim community should be viewed in light of reports that show, "Five percent of the entire adult population, and 39% of the Muslim population, harbor strong and consistent antisemitic views." The Muslim community, while being cast as victims, are largely responsible for Jews fleeing from the southern city of Malmö. This report by the Living History Forum has to be seen as a political pandering to the Muslim community and part of a wider governmental strategy to fend off criticism of their Muslim immigration policies.
In a different kind of comparison, in 2008, Swedish Foreign Minister, Carl Bildt, (who has a bizarre mind of his own) compared Israeli PM, Benjamin Netanyahu with the Hamas. This shows the depth of the angst that exists within the halls of the Swedish government towards the Jewish state of Israel, as well as the level of its pro-Arab/Muslim sentiment. It shows why they simply refuse to take seriously Muslim anti-Semitism, domestically and abroad. It's due to their Muslim constituency that they've chosen to create all by themselves, warts and all. KGS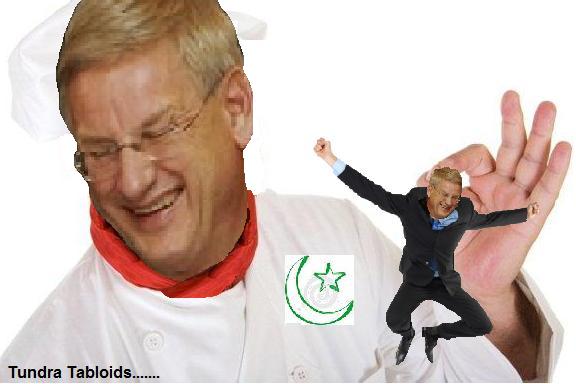 The anti-Semitic chef, Carl Bildt (representing the Swedish government):
"Just a pinch of me is all it takes."
NOTE: And with the OIC leading the way saying muslim anti-semitism is non-existent…the Swedish government nods in approval.