They're taking a page out of the Turks playbook.
The Egyptians are upping the ante with their blind eye approval to the attack on Israel by Gaza PRC terrorists infiltrating from the Sinai desert. They came from Gaza, had Egyptian uniforms and now a huge ruckus has ensued from the fallout of the attack which left 8 Israelis dead after the IDF began their hunt for the terrorists, it's still unclear where the Egyptian security forces were encountered and what took place.
This is all a replay of what used take place in the 50's through the 70's, as terrorists would frequently hit the Jewish state from neighboring countries in hope of causing a major response against an Arab state. It looks like that, as well as the launching of rockets are to be their favored modus operandi for the near future. It didn't take Egypt too long to use a situation like this as the needed casus belli to create new strife in their relations with the Jews. KGS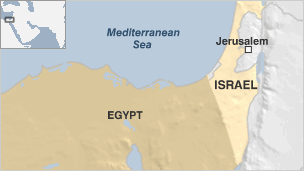 Egypt to withdraw envoy to Israel
Egypt has decided to withdraw its ambassador to Israel to protest the death…
AP: Egypt has decided to withdraw its ambassador to Israel to protest the deaths of five policemen killed on the border during retaliatory attacks on Palestinian militants, state television said Saturday.
"Egypt has decided to withdraw its ambassador to Israel until there is an official apology," it said. Egypt's military chief of staff, Sami Enan, headed to the Sinai on Friday to probe the deaths of the policemen killed a day earlier.
Also:
Grad rocket blasts injure three Palestinians in Ashdod
By YAAKOV LAPPIN, REUTERS AND JPOST.COM STAFF
08/20/2011 01:00
Magen David Adom paramedics treating 3 Palestinians for serious injuries; Rocket fire increases as Hamas calls for end of truce.
Three Palestinian workers working in Israel were seriously injured Saturday morning when an unidentified number of Grad rockets exploded in southern Ashdod, Magen David Adom paramedics reported. A number of hours prior, Hamas's armed wing had announced an end to a two-year old truce with Israel.
Emergency sirens could be heard throughout the city before the blasts. A paramedics team that was dispatched to the site of the blast in Ashdod said it was treating three men in their 20s for serious injuries including shrapnel to the neck, chest, and other parts of the body.