How much do you want to bet that these criminals looting stores and burning buildings and cars in the streets, vote for Labour. The Tundra Tabloids calls on the Leftist politicians to totally distance themselves from their core base of support, the mob. KGS

Surrender! Powerless police let the mob seize the streets, looting shops and starting fires in their wake
By REBECCA CAMBER
Last updated at 4:53 AM on 9th August 2011
Violence and mayhem were spreading like wildfire through the capital last night with police apparently powerless to act.
Scenes of mob rule became more terrifying by the minute as widespread arson and anarchy was added to the orgy of looting.
By midnight flashpoints had multiplied around London, with Clapham, Hackney, Dalston, Peckham, Woolwich and Lewisham added to the list which already included Enfield, Walthamstow and Tottenham.
NOTE: There is no doubt that fundamustards are involved in the violence, this picture show 'asians' as well as one wearing the keffiyeh, the scarf of the jihad. But most of all, this is the work of those who cling to the Left, upon whom Labour panders for their vote. They're joined at the hip ideologically, and you can take this to the bank, if it were the EDL fomenting the violence, the police response would have been completely different, with dogs into the streets and police with batons and clubs flailing.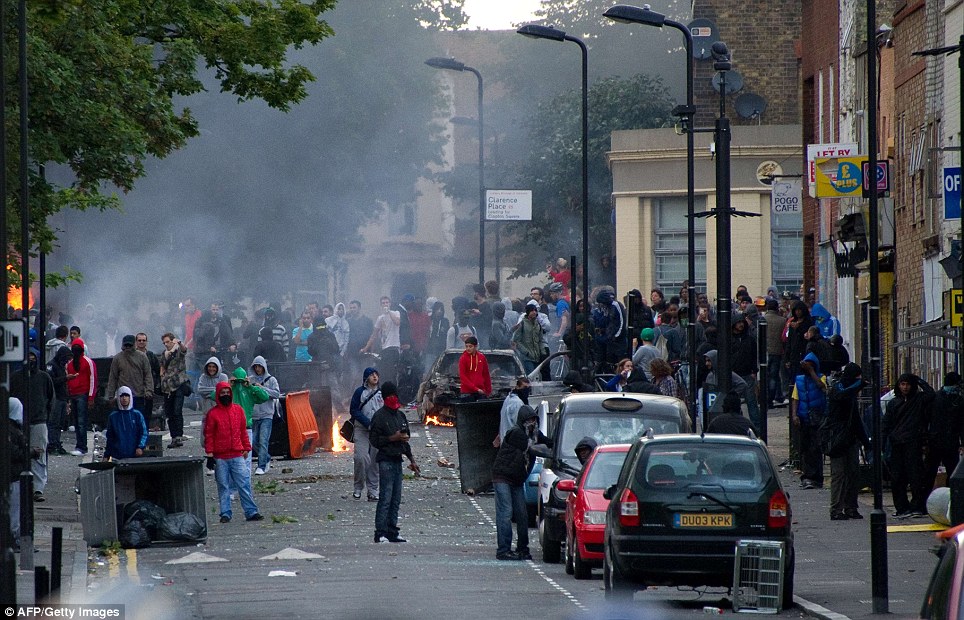 Labour supporters hard at work