IN OTHER WORDS, NEVER OFFER AN EXCUSE FOR THEM.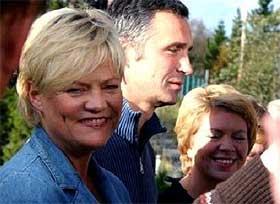 Norway, for those of you who have read these pages for awhile, is a state run by radical extremist Leftists, which is greatly reflected and magnified in their policies vis-a-vis the world's only Jewish state. They simply can't take any ounce of criticism, which also speaks much of their narcissism as well. The state of Norway, which views itself as a "promoter of good", is very narcissistic about its virtue, and when their flaws are pointed out, it's the person doing the finger pointing that's to blame, not the radical extreme Left that manages the Norwegian state.
Barry Rubin responds to the Norwegian media who cried foul over an earlier piece by Rubin, and it warrants reading, he hits home on a theme not presented elsewhere, and he's spot on. KGS
UPDATE: Barry Rubin's article now in Norwegian after the English.
Norway and terror: Repressing discussion doesn't help
By BARRY RUBIN
08/06/2011 22:50
"I do not understand Norway's position, and I say that as a friend of Norway. If they shoot, if they fire rockets, why doesn't Norway believe that they are terrorists? What else do they need to do? Let us not forget that Norway and the other Scandinavian countries called in Yasser Arafat and said: 'If you want a deal, you must first renounce terrorism. You must recognize the State of Israel, and you must commit yourself to peace.' Why is all this forgotten? What is the difference between the PLO at that time and Hamas today?" – President Shimon Peres, May 2011
"We want Palestine in its entirety – so there will not be any misunderstandings. If our generation is unable to achieve this, the next one will, and we are raising our children on this. Palestine means Palestine in its entirety, and Israel cannot exist in our midst… We liberated Gaza through resistance. We want to conduct resistance in the West Bank as well." – Hamas leader Mahmoud Zahar, July 2011, a few days before members of Norway's ruling party expressed enthusiastic support for helping Hamas.
Ironically, the reaction to my article "The Oslo Syndrome," published in The Jerusalem Post last Monday, proved its thesis, the same point that Peres made. If terrorism is empowered, terrorism is more likely to occur. That uncontroversial point has been blown up into something controversial by deceit.
Essentially, the position of Norway's media and government is this: Hamas isn't terrorist, but I'm pro-terrorist.
The Norwegian government and media establishment is not ready to have an honest discussion of these issues. Instead, my article was misrepresented in order to stir up a frenzy that closed ears and shut eyes to what I was saying. Indeed, the Norwegian newspaper Dagbladet falsely claimed that I had endorsed the terrorist attack there. Not a single Norwegian reporter or editor made any attempt to contact me since the beginning of this issue to hear my side or to ask my views.
How's that for constructive dialogue and healing? The blog Israel Matzav sums up my position very well: "Rubin said that this terror attack, committed by a 'normal Norwegian boy' [not my words] ought to make Norwegians do some introspection about their government's support for terror organizations like Hamas. Is Norway giving its youth the wrong message through its support for Hamas? Why is Norway not even willing to ask itself that question?" And the Norwegian reaction is to reiterate – as its ambassador to Israel portrayed his country's view – that there is a rational reason to murder Israeli children ("occupation," despite the fact that Israel has withdrawn from all of the Gaza Strip and much of the West Bank, and indicated its readiness to accept a Palestinian state 11 years ago), but not to murder Norwegian children. In other words, one can only discuss the evil Norwegian terrorist in the parameters laid down by the Norwegian Left. One can talk endlessly about how his specific ideology – right-wing, allegedly Christian, and Islamophobic – but not the way he fits into a much wider pattern of rising terrorism in general.
I didn't write about the content of his ideology but about his choice of strategy on the basis of my three decades' of scholarly study about terrorism. Why did the Norwegian terrorist think that killing people would help – not hurt – his cause? Because like terrorists around the world, he sees other groups that use terrorism succeed politically, build a mass base of support, and gain sympathy for their cause despite their methods.
Second, nobody ever apologizes for criticizing Israel in the harshest terms after terrorist attacks, something I did not do to Norway. No newspaper in the world to my knowledge apologized for the terrible things written on its pages about the United States after September 11.
The deputy foreign minister and foreign minister of Norway, who both attacked me, have never criticized Hamas or Hezbollah by name.
Last May, Foreign Minister Jonas Gahr Støre explained, "We condemn organizations that are involved in terrorism, but Norway has considered the situation as such that having lists where we put an organization and call it a terrorist organization will not serve our purposes."
Obviously, if Hamas was named as a terrorist group, then cabinet ministers couldn't have its leaders to tea. But by not naming it, they are saying: You can commit hundreds of acts of terror and it will cost you nothing politically. But if Israel responds, for example, by counterattacking into the Gaza Strip, we will condemn Israel.
Yes, this is a policy that encourages terrorism and makes it look successful: It wins sympathy for the cause and antagonism toward the victims.
But while Norway won't criticize terrorist groups by name, its officials and media are unrestrained in attacking Israel.
Alan Dershowitz has written from personal observation that in Norway, "Anti-Semitism doesn't even mask itself as anti-Zionism." And this behavior is carried on by public institutions and media.
Former prime minister Kare Willoch criticized US President Barack Obama for appointing Rahm Emanuel as his chief of staff because he was "Jewish," with no apology. The author Jostein Gaarder wrote an op-ed in Aftenposten titled, "God's Chosen People" at a time when three Israeli soldiers had been kidnapped by Hezbollah and a war was on, describing Judaism as "an archaic national and warlike religion."
Apology? In 2008, a Norwegian comedian said on national television, "I would like to wish all Norwegian Jews a Merry Christmas – no, what am I saying! You don't celebrate Christmas, do you!? It was you who crucified Jesus." Apology? Last year, the minister of finance spoke at a largely Islamist-organized anti-Israel rally. Apology? A person who has served as a Foreign Ministry official remarked in 2008 that she occasionally wished the UN would send "precisionguided missiles against selected Israeli targets."
Apology? But I never said and I'm not saying now that a terrorist attack took place in Norway because of its anti-Israel policies or atmosphere. Nor am I saying that Norway "supports" terrorism itself, that it applauds the murder of civilians elsewhere. What I'm saying – as nobody has publicly acknowledged in Norway – is that to show terrorists they will get more sympathy than Israel, to reward a group such as Hamas, to say that terrorism can be ignored if directed against the "proper" people is to increase the overall level of terrorism against Israel and in the world, including in Norway itself.
You've never heard of Samira Munir and Norway's establishment has swept her story away.
She was a Norwegian politician of Pakistani origin who fought for women's rights and against Shari'a law. She was found dead in November 2004, supposedly a suicide but seeming far more likely to have been a terrorist murder. She had received daily death threats by phone and while walking down the street.
Might this act, whose perpetrators were never punished, indicate that some people think they can commit terrorism, get away with it, and suffer no political damage? If others who have extremist views and/or mental disorders see every day that terrorism produces political advantage and sympathy for those who commit it, they are more likely to commit terrorism. If groups see their terrorism is no barrier to being invited to Norway and to having lunch with cabinet ministers while their enemies' self-defense countermeasures are condemned and vilified, they are more likely to adopt terrorism as a strategy.
The underlying concept of the Norwegian response is that Norway is a country that isn't supposed to have terrorism committed against it. But Israel is a country that deserves to have terrorism committed against it. My point is that neither country "deserves" to have this happen. That doesn't mean Norway is guilty or should be punished or that an evil terrorist attack is justified. No, it means that Norway should be more consistently and universally against giving terrorists victories – even though it does so by ignoring their terrorism.
We are now approaching the 10th anniversary of the September 11 attacks on the United States. There were those then, including in Norway, who said the United States had it coming and the attack was due to its policies.
There are always those – including in Norway – who say that Israel has it coming and the attack is due to its policies.
My view is the precise opposite. I'm saying about Norway precisely the same thing I said about the United States after September 11: The attack proves the need to take a tougher stance against terrorism and against all terrorist groups. If the world thought al-Qaida won and its attack brought political gains, then there would be more terrorism. As it happened, there was tough action against al-Qaida itself, but other terrorist groups concluded that terrorism worked, increased their operations, and did reap political rewards.
The world that the Norwegian government and left-wing media want is one that accepts there are two groups in the world: those immune not only from criticism but from serious discussion of their actions, and those who can be lied about with impunity, have hatred incited against them, and then must apologize for not staying in their place as second-class people with second-class rights to express their views.
What I wrote in "The Oslo Syndrome" is that people who accept rationales for terrorism and reward those movements politically increase terrorism. Equally, those who accept double standards, slanderous lies (without apology) about themselves in the media of other countries, and the consorting of those countries with groups that want to exterminate them only increase that behavior, too.
The writer is director of global research in the International Affairs (GLORIA) Center. He is a featured columnist at PJM and editor of the Middle East Review of International Affairs (MERIA) Journal.
NOW IN NORWEGIAN:
Norge og terror: Det hjelper ikke å skyve debatten under teppet
Av Barry Rubin
Kommentar: Folk som aksepterer begrunnelse for terrorisme og belønner slike bevegelser politisk, øker terrorisme.
"Jeg forstår ikke Norges posisjon, og jeg sier dette som en venn av Norge. Hvis de skyter, hvis de skyter raketter, hvorfor tror ikke Norge at de er terrorister? Hva mer er det de må gjøre? La oss ikke glemme at Norge og de andre skandinaviske landene kalte inn Yasser Arafat og sa: "Hvis du vil ha en deal må du først forkaste terrorisme. Du må anerkjenne staten Israel og du må være fast bestemt på fred. " Hvorfor er alt dette glemt? Hva er forskjellen mellom PLO på den tiden og Hamas i dag?" President Shimon Peres, Mai 2011 "Vi vil ha hele Palestina – så det ikke blir noen misforståelser.
Hvis vår generasjon ikke greier å få til dette, vil den neste få det til, og vi oppdrar barna våre til det. Palestina betyr hele Palestina, og Israel kan ikke eksistere iblant oss… Vi frigjorde Gaza gjennom motstand. Vi kommer til å gjøre motstand på Vestbredden også." Hamas-leder Mahmoud Zahar, Juli 2011, noen dager før medlemmer av Norges ledende parti uttrykte entusiastisk støtte for å hjelpe Hamas.
Ironisk nok beviste reaksjonene på min artikkel "Oslo-syndromet" som ble trykket i The Jerusalem Post forrige mandag, den tesen som ble fremsatt der, og det samme argumentet som Peres brukte. Hvis terrorisme blir anerkjent, er det større sannsynlighet for at terrorisme vil forekomme. Dette ukontroversielle poenget har blitt blåst opp til et kontroversielt poeng, gjennom bedrag.
Kort uttrykt er norske media og myndigheters posisjon denne: Hamas er ikke terroristisk, mens jeg er tilhenger av terrorisme.
Norske myndigheter og media-etablissementet er ikke klare til å ta en ærlig diskusjon om disse temaene. Min artikkel har i stedet blitt misrepresentert for å skape så mye bråk at folks øyne og ører har blitt lukket i forhold til det jeg sa. Ja, den norske avisen Dagbladet har endog med urette påstått at jeg støttet terroristangrepet der i landet. Ikke en eneste norsk journalist eller redaktør har gjort noe forsøk på å kontakte meg siden dette fant sted, for å få mitt syn på saken.
Hvordan kan dette være konstruktiv dialog og leging av sår? Bloggeren Israel Matzav beskriver min standpunkt i et nøtteskall: "Rubin sa at dette terrorangrepet, begått av en "vanlig norsk gutt" (ikke mine ord) burde få nordmennene til å foreta litt selvgransking når det gjelder sine myndigheters støtte av terrororganisasjoner som Hamas. Sender Norge ut feil signaler til sine unge gjennom sin støtte av Hamas? Hvorfor er ikke Norge engang villig til å stille seg dette spørsmålet? "
Og den norske reaksjonen er å svare – som landets ambassadør til Israel beskrev sitt lands syn på saken – at det er en rasjonell grunn til å myrde israelske barn ("okkupasjon", til tross for at Israel har trukket seg tilbake fra hele Gaza-stripen og store deler av Vestbredden, og sa seg villig til å godta en palestinsk stat for 11 år siden), men ikke til å myrde norske barn. Med andre ord kan man bare diskutere den onde norske terroristen innenfor en ramme fastlagt av den norske venstresiden. Man kan snakke i det uendelige om hans ideologi – høyrevridd, antatt kristen, og islamofobisk – men ikke om hvordan han passer inn i det mye bredere mønsteret av økende terrorisme generelt.
Jeg skrev ikke om innholdet i hans ideologi men om hans valg av strategi basert på mine akademiske studier av terrorisme gjennom tredve år. Hvorfor trodde den norske terroristen at det å drepe mennesker ville hjelpe – ikke skade – hans sak? Fordi han, som terrorister verden rundt , ser andre grupper som anvender terrorisme lykkes politisk, bygge en støttebase og vinne sympati for sin sak til tross for de metodene de bruker.
I tillegg ber ingen om unnskyldning for å kritisere Israel i de hardeste ordelag etter terroristangrep, noe jeg ikke gjorde overfor Norge. Så vidt jeg vet har ikke noen avis i verden bedt om unnskyldning for de forferdelige tingene som ble skrevet om de Forente Stater etter 11. september.
Norges viseutenriksminister og utenriksminister, som begge har gått til angrep på meg, har aldri kritisert Hamas eller Hezbollah ved navn. I mai i fjor forklarte utenriksminister Jonas Gahr Støre, "Vi fordømmer organisasjoner som er innblandet i
terrorisme, men Norge ser situasjonen slik at det å ha en liste hvor vi setter opp en organisasjon og kaller den en terrororganisasjon, ikke har noe for seg."
Det er klart at hvis Hamas ble navngitt som en terrororganisasjon ville ikke stortingsrepresentanter kunne be dens ledere på te. Men ved ikke å navngi den, sier de: Du kan begå hundrevis av terrorhandlinger og det vil ikke koste deg noe politisk sett. Men hvis Israel går til motangrep for eksempel i Gaza-stripen, vil vi fordømme Israel.
Ja, dette er en politikk som oppfordrer til terrorisme og får den til å se vellykket ut: Den vinner sympati for saken og hat mot ofrene. Men selv om Norge ikke er villig til å kritisere terroristgrupper ved navn, har norske myndigheter og media ingen hemninger når det gjelder å angripe Israel. Alan Dershowitz skriver, basert på personlige observasjoner, at i Norge "prøver ikke engang antisemitismen å maskere seg som anti-zionisme." Og denne oppførselen pågår i offentlige institusjoner og i media.
Tidligere statsminister Kåre Willoch kritiserte USAs president Barack Obama for å ha valgt Rahm Emanuel til Chief of Staff fordi han var "jødisk" – uten å beklage det. Forfatteren Jostein Gaarder skrev en kronikk i Aftenposten med tittelen "Guds Utvalgte Folk" akkurat da tre israelske soldater hadde blitt kidnappet av hezbolla og krig pågikk, hvor han beskrev jødedommen som "en arkaisk nasjonal og krigersk religion."
Beklage det?
I 2008 sa en norsk komiker på fjernsyn: "Jeg vil gjerne ønske alle norske jøder en god jul – nei, hva er det jeg sier! Dere feirer jo ikke jul. Det var dere som korsfestet Jesus." Beklage det? I fjor talte finansministeren foran et anti-Israelsk torgmøte som stort sett var organisert av islamister. Beklage det? En person som har vært ansatt i Utenriksdepartementet bemerket i 2008 at hun noen ganger skulle ønske at FN ville sende "presisjonsstyrte raketter mot utvalgte israelske mål."
Beklage det?
Men jeg har aldri sagt og jeg sier ikke nå at et terroristangrep fant sted i Norge på grunn av landets antiisraelske politikk og atmosfære. Jeg sier heller ikke at Norge "støtter" terrorisme i seg selv eller at det jubler over mord på sivilister andre steder. Det jeg sier – noe ingen i Norge har akseptert offentlig – er at det å vise terrorister at de vil få mer sympati enn Israel, å belønne en gruppe som Hamas, å si at terrorisme kan bli sett gjennom fingrene med dersom den blir rettet mot de "riktige" menneskene, det er å øke det generelle nivå av terrorisme mot Israel og i verden, inkludert i Norge selv.
Du har aldri hørt om Samira Munir, og det norske etablissementet har dyttet historien hennes under teppet. Hun var en norsk politiker av pakistansk opprinnelse som kjempet for kvinners rettigheter og mot sharialov. Hun ble funnet død i november 2004, angivelig på grunn av selvmord men mye mer sannsynlig offer for terroristmord. Hun hadde daglig mottat drapstrusler både på telefon og mens hun gikk ute.
Er det mulig at denne handlingen, som ingen har blitt straffet for, viser at enkelte tror de kan begå terroristhandlinger ustraffet og ikke lide noen politisk skade? Hvis andre som har ekstremistiske synspunkter og/eller mentale forstyrrelser hver dag ser at terroristhandlinger skaper politiske fordeler og sympati for dem som begår dem er det mer sannsynlig at de begår terroristhandlinger. Hvis grupper ser at det at de er terrorister ikke er noe hinder for å bli invitert til Norge og spise lunsj sammen med stortingsrepresentanter mens deres fienders selvforsvars-mottrekk blir fordømt og behånet, er det mye mer sannsynlig at de vil benytte terrorisme som strategi.
Den underliggende ideen ved den norske reaksjonen er at Norge er et land som liksom ikke "skal" ha terrorisme begått mot seg, mens Israel er et land som fortjener å ha terrorisme begått mot seg. Mitt poeng er at ingen av disse landene "fortjener" at noe sånt skal skje. Det betyr ikke at Norge er skyldig og burde bli straffet eller at et ondsinnet terrorangrep skal rettferdiggjøres. Nei, det betyr at Norge burde være mere konsekvent og totalt imot det å gi terrorister aksept – selv om aksepten består i å å se gjennom fingrene med terrorhandlinger.
Vi nærmer oss nå tiårsjubileet for 11 september-angrepene på USA. Den gangen var det folk som sa at USA hadde fortjent det og at angrepene kom som resultat av landets politikk. På samme måte finnes det alltid de – også i Norge – som sier at Israel har fortjent å bli angrepet og at det er et resultat av landets politikk. Mitt synspunkt er det eksakt motsatte. Jeg sier om Norge akkurat det jeg sa om USA etter 11 september:
Angrepet beviser at det er nødvendig å innta en hardere holdning overfor terrorisme og mot alle terroristgrupper. Hvis verden trodde at al-Qaida hadde vunnet og at deres terrorangrep hadde ført til politiske fordeler, ville resultatet ha blitt mer terrorisme. Det som skjedde var at det ble tatt harde midler i bruk mot selve al-Qaida, mens andre terroristgrupper kom til den konklusjonen at terrorisme virker. De trappet opp sine operasjoner og høstet politiske belønninger.
Den verden som norske myndigheter og det venstrevridde media vil ha, er en som aksepterer at det finnes to typer mennesker: De som er immune ikke bare mot kritikk men mot seriøs debatt rundt sine handlinger, og de som ustraffet kan bli løyet til, få hat pisket opp mot seg og etterpå må be om unnskyldning for ikke å holde seg på sin plass som annenrangs innbyggere med annenrangs rettigheter til å uttrykke sine synspunkter.
Det jeg skrev i "Oslo-syndromet" er at folk som aksepterer begrunnelse for terrorisme og belønner slike bevegelser politisk, er med på å øke terrorisme. På samme måte er de som aksepterer doble verdier, personforfølgende løgner om seg selv i andre lands media, og slike lands glorifisering av grupper som vil utrydde dem, også med på å øke den slags oppførsel.
Forfatteren er director for global forsaking i International Affairs (GLORIA) Center. Han er saltiest i Pajamas Media og redactor av The Middle East Review of International Affairs (MERIA) Journal.