For the most part, the Greens party is made up of Leftist malcontents and other associated political loons. To put it bluntly, they're a freak show. If this latest gesture of lunacy is ever implemented, you can be sure that the musulman will be allowed his sharia law in Finland. KGS
H/T: Minni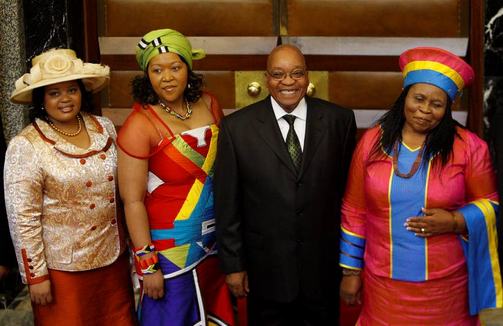 This is wanted in Finland
Finnish Greens' youth organization wants polygamy.
THE PRESIDENT of South Africa, President Jacob Zuma, posing with his wives, Nompumelo Thulin, Thobeka Mabhijan and Sizakele Khumalo . Polygamy is represented by Zuma of the Zulu tribe traditions. (EPA / AOP)
Green youth and student union (VINO) believes that Finland's marriage law shouldn't discriminate against the sex of the partner nor the amount thereof.
– This is something that should be discussed. The law should allow for people's life style, not to rule out situations that people find themselves in. Polygamy is written in newspapers. At least the newspaper articles of people living in such relationships have been happy with the situation. I do not see why this should be prevented within the law, Inka Venetvaara chairman of VION says to Iltalehti.
Venetvaara acknowledges that polygamy is quite far from the Finnish traditional conceptions of marriage.
[…]
Temperature is to blame
Fierce criticism of the Greens previous views was presented by True Finns, Pentti Oinonen, Pentti, who thinks that the ideas of polygamywas due to heat stroke.
– Maybe they've taken too much sun, when thoughts like that are made public. The heat is said to worsen in the near future, so we'll see what comes next, Oinonen says to the Iltalehti.