Gee, the politicians never informed the public about this possible scenario before lifting the flood gates to let in every Ahmed, Mohamed and Omar. KGS
H/T: Reinhard, from Politiskt Inkorrekt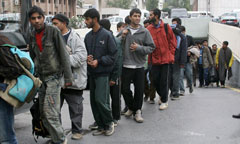 Norwegian asylum seekers to take rape prevention classes.
NORWAY Exclusion of men with immigrant background, have been indicted or convicted of 49 percent of the recent assault rapes in Oslo. To curb the trend male asylum seekers are now being sent the course.
It is above all, the men in the asylum Lodging in Aust-Agder, Vest-Agder, Telemark and Vestfold that Utlendingsdirektoratet is directing to their courses which is to provide information about women's views and gender equality in Norway. Course model is taken from Alternative til vold, a treatment and competence of domestic violence. ATV and Regional ressurssentre for vold og traumatic stress are partners in the project.
– Some single men but also women who live with someone, to learn alternative strategies to the use of violence and harassment, says State Secretary Libe Rieber-Mohn from the Norwegian Social Democrats.
Even women should be advised of their rights and learn to set boundaries.