Oh, that'll work.
The US is playing a stupid game, which Obama is entirely responsible for. KGS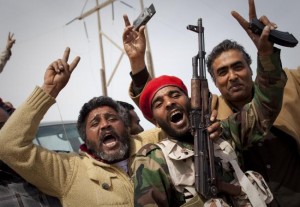 US, EU warn against Libyan arms flow to Al-Qaeda
The United States and European Union warned Thursday of a threat of Libyan army weapons making their way to Al-Qaeda's offshoot in north Africa's Sahel region. US Homeland Security chief Janet Napolitano and European powers discussed how to prevent the Al-Qaeda network getting hold of the sophisticated weaponry, Spain's interior minister said after a meeting here. Al-Qaeda in the Islamic Maghreb (AQIM) is active in the Sahara desert and Sahel scrubland to the south — an area nearly the size of Australia stretching from western Mauritania through Mali and Niger. The group has carried out kidnappings of foreigners and staged attacks in the region.
H/T: Fjordman