You see, she chooses freely to involve herself in a sport that has strict guidelines for its competitors to follow, but instead of conforming to the rules, she seeks to change the entire sport to suit her preferences. That's the way Islam behaves, hey kaffirs, conform to us! Tolerance! KGS
Muslim weightlifter fights to compete, hijabi-style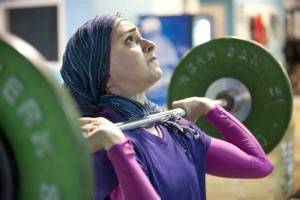 Barred from competing with arms and legs covered, American appeals to sport's world bod
She can "deadlift" 240 pounds, and "snatch" more than 100. But, as Kulsoom Abdullah recently learned, she can do neither in a national competition unless she agrees to bare her arms and legs.
That is a non-starter for Abdullah, a 35-year-old Muslim-American who says that such exposure would violate her deeply held religious beliefs. But rather than giving up on her dreams of competitive weightlifting, she's pressing for a change in the sport's international rules.
Abdullah may be the only woman in the world who lifts in sanctioned competitions while wearing a hijab — the traditional Muslim dress that covers the head, arms and legs. But her dilemma is one that is cropping up in many organized sports in which Muslim women are seeking to compete, sometimes for the first time.
"I think it would just be nice that in any sport, if there's a lady who covers her arms and legs … they could still be involved," Abdullah said. Turning to her chosen sport, which is male-dominated, she adds: "With the dresscode (as it is) Muslim women might think it's not something they should do."