The dominoes begin to fall? KGS
Allied Irish Bank has 'defaulted' says derivatives body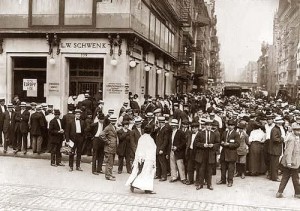 Banks that sold insurance on the debt of Allied Irish Banks will have to pay out to investors in the nationalised lender's debt despite complex legal manoeuvres by the Irish authorities to avoid putting the lender into default.
The International Swaps and Derivatives Association (ISDA) yesterday said that a "credit event" had occurred on Allied debt, meaning the bank has effectively defaulted on its debt, a situation the Irish government has gone to extreme lengths to avoid.
Credit default swaps (CDS) sold on Allied subordinated bonds and, crucially, its senior debt, have been activated by the decision of the ISDA determinations committee that decides whether a borrower has defaulted.
The decision by the committee, which is made up of 10 major banks, follows the announcement earlier this month by the Irish High Court of a "subordinated liabilities order" that changed the terms under which junior debt in Allied was originally sold, forcing holders of the bonds to accept an extension in the maturity of the debt to 2035.