The TT faults both the present US administration as well as European political leaders for the state of affairs with NATO. KGS
US defence chief: Europe may no longer be worth defending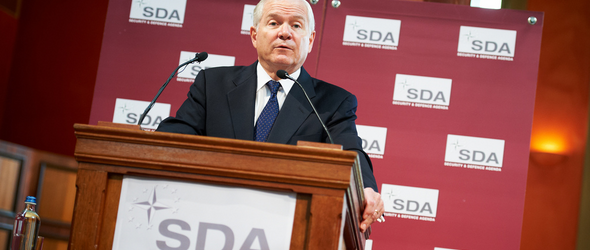 10.06.2011 @ 19:01 CET
BRUSSELS / EUOBSERVER – Under pressure to cut its military spending, the US is losing patience with Europe's unwillingness to pay for its own defence, outgoing US defence minister Robert Gates said Friday (10 June) in an unusually 'blunt' speech in Brussels, casting doubt over the very survival of Nato.
On his last trip to Europe before retiring on 30 June, Gates – who has served as defence minister both in the George W. Bush and Barack Obama administrations – allowed himself "to speak bluntly" during a conference organised by the Security and Defence Agenda, a Brussels-based think tank.
Looking first at Afghanistan, he noted that the operation got bogged down in national caveats which hampered the range of actions European soldiers were allowed to do – a hint at Germany's restrictions on its troops to use lethal force, which meant that they could not be deployed in combat against the Taliban.
As for troop withdrawal, with the Netherlands suddenly pulling out after a government was forced to resign last year over the Afghan war, Gates said: "We cannot afford to have some troop-contributing nations to pull out their forces on their own timeline in a way that undermines the mission and increases risks to other allies. The way ahead in Afghanistan is 'in together, out together'."
Nato's flagship mission in Afghanistan has also "exposed significant shortcomings" in the military alliance – both concerning capabilities and "political will."