Islam promotes this pedophilia because Mohamed, the founder if Islam, married a 6yr. old girl and deflowered her when she was 9. Since Mohamed is believed by Muslims to be the supreme example of human behavior, the perverted practice continues.
That other 3rd world (non-Muslim) regions have the same practice is a tragedy as well, but there's hope for them, eventually. In Islam however, where the central figure is revered and shown to have involved himself in the pedophilia, it will always remain a key central right for the mohammedan male. Those are the facts. KGS
H/T: Scottish Infidel
"'Whenever I saw him, I hid. I hated to see him': Tahani (in pink) was just six years old when she she married Majed, 25 (standing next to her). The young wife posed for this portrait with former classmate Ghada, also a child bride, outside their mountain home in Hajjah, Yemen."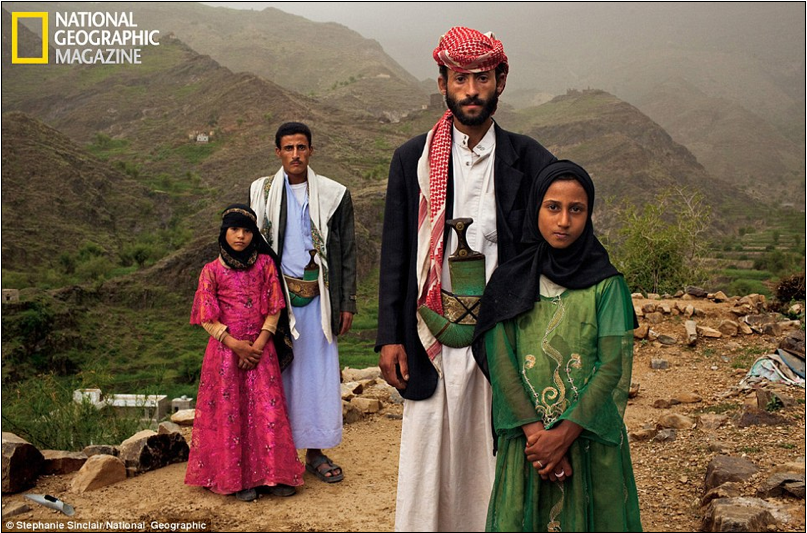 Wide-eyed and haunted, the heartbreaking expressions on these young girls' faces hint at an innocence cruelly snatched away.
They should be playing, learning and enjoying their childhood. But instead these youngsters, some as young as five, are being married off in secret weddings. It is estimated that every year this happens to ten to 12 million girls in the developing world.
In India, the girls will typically be attached to boys four or five years older. But in Yemen, Afghanistan, Ethiopia and other countries with even higher rates of marriage at an early age, the husbands may be young men, middle-aged widowers or even abductors who rape first and claim their victims as wives afterwards.