The Muslims of Sofia are really bumming over this ruling, projecting Islam, and intimidating the public is what this is all about. Now they are being told to "turn it down, but will they comply, that's to be seen. KGS
H/T: Scottish Infidel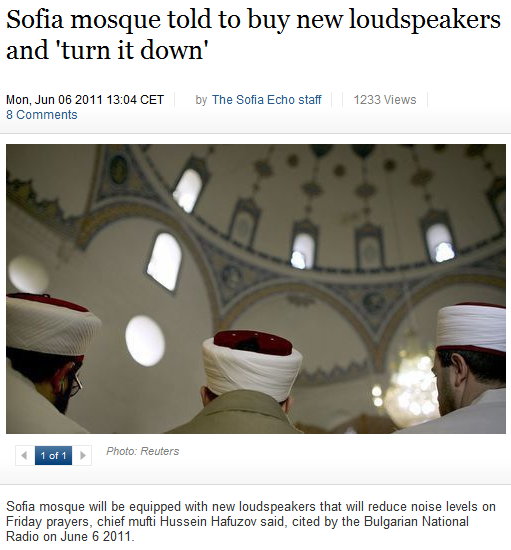 The decision was made during a meeting with Interior Minister Tsvetan Tsvetanov and Sofia mayor Yordanka Fandukova, after the Muslim leadership said that the existing PA system was so old that the volume could not be turned down. They were then told to buy a new one and have it installed, the report said.
Hafuzov also said that Ataka (far-right ultra-nationalist political party in Bulgaria) should not claim this as their victory. This comment came in spite of reports in the Bulgarian media that the Muslim leadership had initially contemplated turning up the volume after the May 20 incident in which Ataka members and worshippers got into a fight.
Allegedly, after the fight, Muslims from across Bulgaria "vowed to support their fellow Muslims in Sofia", Dnevnik daily reported.
People nearby have been complaining not only about the loud noise emanating from the speakers but also about traffic obstruction because of worshippers occupying pavements outside the mosque.