This is what can happen when ignorance of Islam is left unchecked. KGS
NOTE: Most definitely not the sharpest knife in the kitchen drawer. How much you want to bet that he was a Leftist drone before his conversion to another oppressive ideology.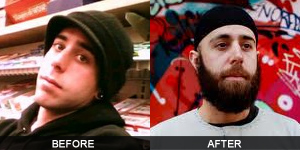 From Guantanamo to Makkah
The Grand Mosque in Makkah is a very long distance in every sense of the word from Camp Delta, the infamous US Navy detention center at the base at Guantanamo Bay, but life has its ironies and this one involves the journey made by former Guantanamo prison guard Terry Holdbrooks, who performed Umrah last week. Terry, now known as Mustafa, embraced Islam in 2003 while guarding terror suspects (who have never gone to trial) at Camp Delta and was dismissed shortly afterward. The conduct of the inmates, a Moroccan among them in particular, was a major factor behind his conversion. Prior to that, his only exposure to Muslim culture amounted to seeing actor Morgan Freeman play a Muslim character in the movie "Robin Hood: Prince of Thieves."
NOTE: The more you know about Islam the more you want to see it dissapear.