I'm telling you, it's going to get even a lot more bloody than you've seen already. The Assad regime has its back against the wall, all that stands between them and the great beyond is the army. KGS
'Blood was everywhere': 63 killed at Syria protest, activists say
Witnesses say security forces, snipers open fire at one of largest demonstrations of 11-week uprising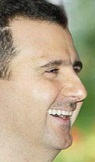 BEIRUT, Lebanon — Syrian forces killed at least 63 civilians in attacks to crush pro-democracy demonstrations on Friday, the Syrian human rights organization Sawasiah said on Saturday.
Thousands of protesters took to the streets after noon prayers on Friday in defiance of security forces determined to crush a revolt against President Bashar al-Assad's 11-year rule.
Sawasiah said 53 demonstrators were killed in the city of Hama, one in Damascus and two in the northwestern province of Idlib.
Seven people were also killed in the town of Rastan in central Syria, which has been under a military assault and a siege by tanks since Sunday.
Syria unplugs Internet for much of country
It was one of the bloodiest days since the revolt broke out 11 weeks ago.
Security forces and snipers fired at tens of thousands of demonstrators gathered in the city of Hama, where 29 years ago President Hafez al-Assad, Bashar's father, crushed an armed Islamist revolt by killing up to 30,000 people and razing parts of the city to the ground.