No where else in the world can a people march through their own capital and have it deemed, provocative or controversial. KGS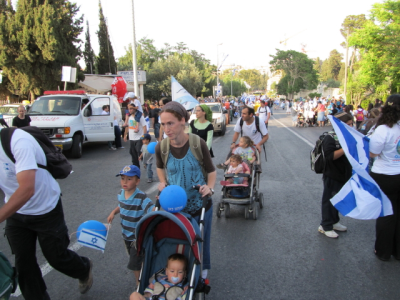 Over 40,000 people marched through the streets of Jerusalem on Wednesday afternoon in a show of patriotism honoring the 44th anniversary of the Six Day War.
Dozens were arrested during the annual Flag Day parade, which marched through the east Jerusalem neighborhood of Sheikh Jarrah in a departure from the route through the city center used in previous years.
Despite the more controversial route, police said the biggest problems were in the area of the Damascus Gate and Rehov Hanevi'im, which are part of the permanent route used in previous years.
A total of 24 people were arrested for disturbing the peace, the majority of them Jewish, the police reported.
Three people were wounded from rocks thrown on Rehov Hanevi'im next to the Damascus Gate and Sultan Suleiman Street, one of whom was taken to the hospital with a head injury.
"In previous years we have also had problems and violence between the Arabs and the Jews, but in our opinion the number of arrests [this year] was not small, it was quite large," Jerusalem police spokesman Shmuel Ben-Ruby said.
"Things were completely under control and different units responded in the way that's appropriate, considering there were 40,000 people taking part. The streets in the Old City are very narrow, and tensions were high," added Micky Rosenfeld, National Police spokesman.