STATIST THINKS OPPRESSION IS DEMOCRACY.
Seeing that Eurocrats like, Herman Van Rompuy, find no contradiction between top-down, oppressive governance with a fig leaf of credibility, and free liberal democracy, should tell you everything that you need to know about the mindset that these statists represent. KGS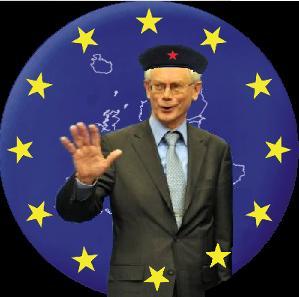 EU"s Van Rompuy says no contradiction between Islam and democracy
BRUSSELS, May 30 (KUNA) — About twenty senior representatives from the Christian, Jewish, Muslim religions as well as from the Buddhist communities met in Brussels Monday at the invitation of European Commission President Jose Manuel Barroso and co-chaired by Jerzy Buzek, President of the European Parliament and Herman Van Rompuy, President of the EU. They discussed effective ways to build a partnership for democracy and shared prosperity between Europe and its neighbourhood.
Speaking at a press conference after the meeting, Van Rompuy said: "let us not forget history. It is on the march in North Africa and the Arab world." "These revolutions are not the work of fanatics or extremists. On the contrary they prove that there is no contradiction between Islam and Democracy, " he stressed.