Canadian PM Harper is a gem.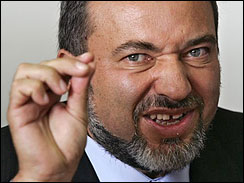 Israeli FM Lieberman: If we only had more Western states like Canada speaking the truth about the conflict.
Lieberman thanks Canada for pro-Israel stance at G8
By REUTERS AND JPOST.COM STAFF
05/28/2011 02:20
FM tells Canadian counterpart John Baird "Canada is a true friend of Israel"; Canada objected to wording of G8 call for renewed negotiations.
Talkbacks (33)
Foreign Minister Avigdor Lieberman spoke with Canadian Foreign Minister John Baird during a telephone conversation on Friday and thanked him and Canadian Prime Minister Stephen Harper for their pro-Israel stance at the G8 summit. Lieberman said during the conversation that "Canada is a true friend of Israel."
Group of Eight leaders had to soften a statement urging Israel and the Palestinians to return to negotiations because Canada objected to a specific mention of 1967 borders, diplomats said on Friday.