Thanks to Person of  The Book for forwarding this story to the Tundra Tabloids. The TT posted earlier about Veena Malik's confrontation with a Pakistani cleric, warning about her becoming a possible victim of an attack, perhaps acid thrown in her face etc., it now appears that she was purposefully hit by another car with the intent of causing he bodily harm. It wouldn't surprise to hear that she has moved abroad. KGS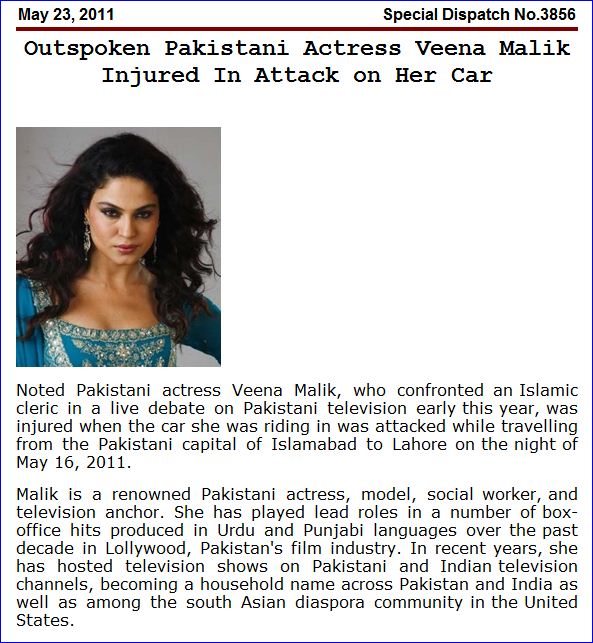 While initial Pakistani media reports said that Veena Malik was injured in a car crash, her publicist said that it was a deliberate attack. Her publicist Sohail Rashid said: "A speeding vehicle overtook Veena Malik's car, hit its side door and raced off. The car went off-balance and collided."[1] "It seemed as if they deliberately hit our car. We couldn't see their faces. They hit us, and saw our car colliding. They would have stopped had they hit us by mistake," Rashid said, adding that Malik is now out of danger and her condition is stable.[2]
In January 2011, Malik earned the ire of Islamic clerics in Pakistan and orthodox circles by confronting Pakistani cleric Mufti Abdul Qawi on a live Pakistani television program after she was accused of disgracing Pakistan and Islam for her appearance on 'Big Boss,' the Indian version of the television show 'Big Brother.' On the Pakistani program she accused Pakistani clerics of teaching a distorted version of Islam and accused the religious scholars were responsible for molesting children in Islamic seminaries.