We all saw the outpouring of grief around the Islamic world over the killing of bin-Laden, it's very possible that the headmaster's fears for the lives of her pupils are well founded. What's even worse is the reaction by some of the parents. KGS
NOTE: Why are non-Muslim children being sent to visit mosques anyways? Why should they be forced to be assaulted with dawa at such an early age? They have no more business visiting a Mosque than they do the central headquarters of Neo-Nazi / Marxist groups.
H/T: The ever reliable Scottish Infidel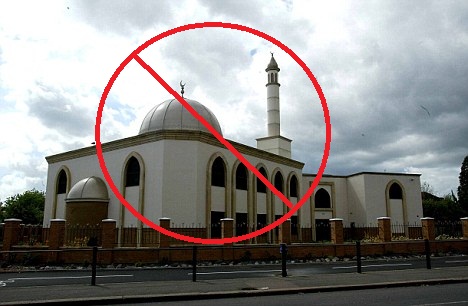 Primary school mosque trip cancelled over 'ridiculous' Bin Laden revenge fear by headmistress
By JACK DOYLE
A primary school trip to a mosque was cancelled because of 'ridiculous' concerns over terrorist attacks in revenge for the death of Osama Bin Laden.
A group of five and six-year-old pupils from Orleans Infant School in Twickenham, South West London, was due to visit nearby Hounslow Mosque tomorrow.
But the trip was ditched after the headmistress said she was concerned about the 'safety' of pupils.
Furious parents said the decision to scrap the outing sent the 'wrong message' to children about Muslims.
One parent said: 'This is the most bizarre and ridiculous decision. It seems to be based on ignorance and bigotry, the opposite of what education should be about.
How am I supposed to explain it to my kids?' In a letter to parents a fortnight before the excursion, headmistress Jane Evans said: 'As you know, Year 1 were due to visit the mosque in Hounslow on May 24. In light of recent political  events, in conjunction with the advice sought I have taken the decision to cancel the trip for the present time.
'Depending on how the situation develops, we may reorganise the trip for a time closer to the end  of term.
'The safety of the children is always our paramount concern and this is the rationale behind  the decision.'
In a later missive, the headmistress added: 'In the meantime, we are fortunate to have organised for the deputy head of Suffah Primary School, who works closely with the mosque, to lead an assembly with the children.'
The trip was organised as part of a programme to teach pupils about 'Faith and Other Cultures'.