What could go wrong?
Is there any doubt for the fence sitter which side Pakistan is on? They're clearly not on our (the West's) side, so that means that they are aligned with al-Qaida-type fundamustards. So why are we pumping more money into them than ever before? KGS
H/T: Henrik R. Clausen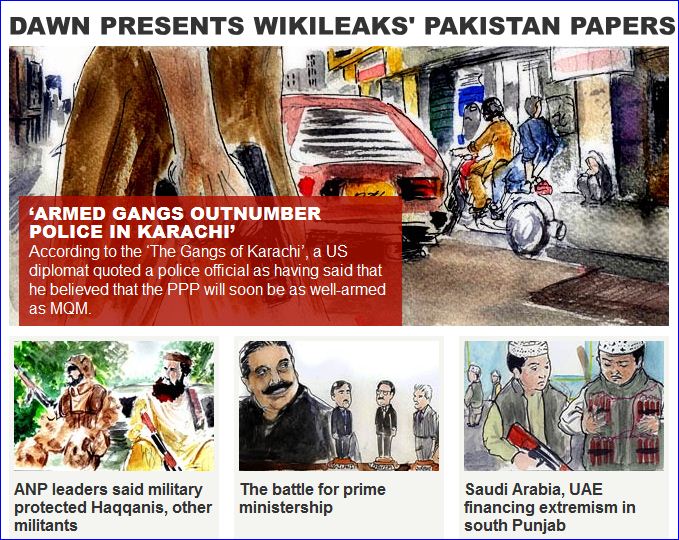 Headlines: 'Armed gangs outnumber police in Karachi'
By Idrees Bakhtiar
The cable notes that the "ST is a small religious/political group with a presence in small pockets of Karachi. The group has only managed to win a handful of council seats in local elections but militarily it is disproportionately powerful because of the influx of MQM-H gunmen. ST has organised the party and its gunmen along the lines of MQM by dividing its areas of influence into sectors and units, with sector and unit commanders".
KARACHI:  "The police are only one of several armed groups and probably not the most numerous or best equipped," according to a secret assessment of the 'The Gangs of Karachi' by then US consul general Stephen Fakan in April 2009.
The assessment focuses on the Pakistan People's Party, Muttahida Qaumi Movement, Awami National Party, Muhajir Qaumi Movement (H), Sunni Tehreek and "Pashtun terrorists", besides some armed gangs operating in Lyari and other parts of this megapolis. It states that "the PPP's decision to include MQM in coalition governments in Sindh and at the centre has helped preclude a return to the PPP-MQM violence of the 1990s. But the potential for MQM-ANP conflict is growing as Pashtuns challenge Muhajir political dominance and vie for control of key economic interests, such as the lucrative trucking industry.
"Any sign that political violence is returning to Karachi, especially if it is related to the growing strength of conservative Pashtun 'Taliban', will send extremely negative shockwaves through the society and likely accelerate the flight from Pakistan of the business and intellectual elite of the society," the report says.
Assessing the overall situation that prevailed in the city, the cable adds that the police consider many neighbourhoods to be no-go zones in which even intelligence services have a difficult time operating.
"Very few of the groups are traditional criminal gangs. Most are associated with a political party, a social movement, or terrorist activity, and their presence in the volatile ethnic mix of the world's fourth largest city creates enormous political and governance challenges."