Michael Bloomturd, the mayor of the good city of New York, is one of the main reasons why the Ground Zero mosque is still heading in the direction of eventually being built. His own news agency, Bloomturd News, continues to promote the disgrace of a project that the overwhelming majority of Americans openly and almost unanimously reject (there are few dissenting morons, but who cares what they think). KGS
H/T: Fjordmanground zero mosque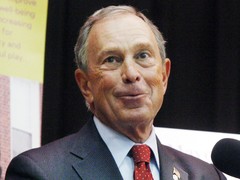 Democrat in the closet Bloomturd:
Building an edifice to the jihad against us is a blessing.
'Ground Zero Mosque' Developer Calls Controversy a 'Blessing'
The developer of an Islamic center in lower Manhattan said that controversy over its proximity to the World Trade Center was an "incredible blessing," giving him access to capital from around the world.
"The greatest advantage that I have is overnight I have turned into a public figure," Sharif El-Gamal, chairman and chief executive officer of New York-based Soho Properties, said at a conference sponsored by brokerage Massey Knakal Realty Services. "I literally have a whole P.R. team that fields my interview requests."
Soho Properties invests in real estate in New York City. El-Gamal's plans for an Islamic cultural center two blocks north of Ground Zero ignited a political controversy last year. Protesters said its placement near the site of deadliest terrorist attacks in U.S. history would be an insult to those who were killed there. New York Mayor Michael Bloomberg said denying Muslims the right to build the center would undermine America's values and damage its image.
The mayor is founder and majority owner of Bloomberg News parent Bloomberg LP.
El-Gamal's newfound fame helped open doors to "different pockets of money" from investment groups around the world, he said, including sovereign wealth funds.