The man truly does not care how much wreckage he leaves in his wake, treat this speech as a lame attempt to shore up support for his run in 2012, and it falls short, way short of that and cuts off his legs in the process. No one in the M.E. is falling for it and neither are the Israelis. He did however manage to piss all over America once again, Caroline Glick shows us why. KGS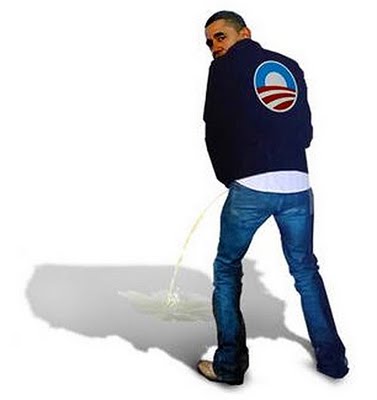 Obama's Abandonment of America
I was out sick yesterday so I was unable to write today's column for the Jerusalem Post. I did manage to watch President Obama's speech on the Middle East yesterday evening. And I didn't want to wait until next week to discuss it. After all, who knows what he'll do by Tuesday?
Before we get into what the speech means for Israel, it is important to consider what it means for America.
Quite simply, Obama's speech represents the effective renunciation of the US's right to have and to pursue national interests. Consequently, his speech imperils the real interests that the US has in the region – first and foremost, the US's interest in securing its national security.
Obama's renunciation of the US national interests unfolded as follows:
First, Obama mentioned a number of core US interests in the region. In his view these are: "Countering terrorism and stopping the spread of nuclear weapons; securing the free flow of commerce, and safe-guarding the security of the region; standing up for Israel's security and pursuing Arab-Israeli peace."
Then he said, "Yet we must acknowledge that a strategy based solely upon the narrow pursuit of these interests will not fill an empty stomach or allow someone to speak their mind."
While this is true enough, Obama went on to say that the Arabs have good reason to hate the US and that it is up to the US to put its national interests aside in the interest of making them like America. As he put it, "a failure to change our approach threatens a deepening spiral of division between the United States and Muslim communities."
And you know what that means. If the US doesn't end the spiral of division, (sounds sort of like "spiral of violence," doesn't it?), then the Muslims will come after America. So the US better straighten up and fly right.
And how does it do that? Well, by courting the Muslim Brotherhood which spawned Al Qaeda, Hamas, Jamma Islamiya and a number of other terror groups and is allies with Hezbollah.
How do we know this is Obama's plan? Because right after he said that the US needs to end the "spiral of division," he recalled his speech in Egypt in June 2009 when he spoke at the Brotherhood controlled Al Azhar University and made sure that Brotherhood members were in the audience in a direct diplomatic assault on US ally Hosni Mubarak.